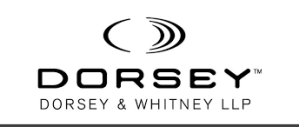 Dorsey & Whitney LLP is seeking a patent associate to work in Denver, CO, Salt Lake City, UT, or Seattle, Washington. You will have responsibility for an active docket of patent prosecution matters – from drafting applications through all phases of domestic and foreign patent prosecution. You will have the opportunity to counsel clients on patent strategy, and gain exposure to conducting searches and preparing patentability, invalidity, and non-infringement opinions. In our general practice firm, there are also opportunities to support litigation and transactional practices.
The following qualifications are required:
USPTO admission
Two to three years of patent attorney or agent experience
B.S. and/or M.S. in Computer Science or Electrical Engineering, or a B.S. in Engineering with relevant technical Electrical Engineering or Computer Science work experience
Strong academic performance and writing ability
Preferred candidates will thrive in a fast-paced, client-centric team where they enjoy a significant amount of responsibility for seeing matters through to completion.
Colorado bar admission preferred for Denver candidates. Washington bar admission preferred for Seattle candidates. Utah bar admission preferred for Salt Lake City candidates.
In addition to submitting your cover letter, resume and transcript with your application, please also submit a patent prosecution writing sample.
Apply online at:
http://www.dorsey.com/attorneyjobs
Applications should include a resume, cover letter, transcript, and patent prosecution writing sample.
Additional Info
Employer Type: Law Firm
Job Location: Denver, CO; Salt Lake City, UT; Seattle, Washington