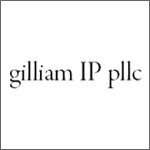 Gilliam IP PLLC, a small law farm, is seeking a patent engineer or associate.
Have you spent years studying AI but have no desire to program? Perhaps, you started an academic track but have no interest in a post-doc life. We are seeking someone who is more than just familiar with AI/ML buzzwords and who would prefer expository writing over programming. You must have an understanding that allows you to converse with inventors and quickly grasp their AI/ML related innovations sufficient to create a teaching document because patents should be teaching documents. In addition, your understanding is necessary to argue with the various patent offices of the world staffed with patent examiners unfamiliar with this area of technology. You must already have decent expository writing skills that will be sharpened (perhaps contorted slightly for patent law) over the course of your training. The bulk of this job is reading and writing with great attention to precise meanings of words. While most of your time is spent 1:1 with a computer, success requires pooling knowledge with your colleagues (i.e., teamwork) and social interaction that adapts to the differing personalities of inventors and client contacts.
HELPFUL ATTRIBUTES
You like technical reading and expository writing.
You enjoy learning new areas of technology and science.
Apply via email to:
steven@gilliamip.com
Please include resume with submission.
Additional Info
Employer Type: Law Firm
Job Location: Austin, TX