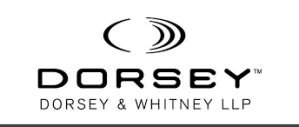 Dorsey's Patent group is seeking an associate with two to three years of experience and a technical background in computer science, electrical engineering, or a related field and an interest for patent prosecution involving complex software systems. Successful candidates may be based in Seattle, Salt Lake City, or Denver, and a demonstrated commitment to one of these locations is preferred. You will join an exceptional team of attorneys, agents, paralegals, and staff servicing a wide array of clients – from large multinational corporations to entrepreneurs and innovative startup companies. You will have responsibility for an active docket of patent prosecution matters – from drafting applications through all phases of domestic and foreign patent prosecution. You will have the opportunity to counsel clients on patent strategy, and gain exposure to conducting searches and preparing patentability, invalidity, and non-infringement opinions. In our general practice firm, there are also opportunities to support litigation and transactional practices.
The following qualifications are required:
USPTO admission
Two to three years of patent attorney or agent experience
B.S. and/or M.S. in Computer Science or Electrical Engineering, or a B.S. in Engineering with relevant technical Electrical Engineering or Computer Science work experience
Strong academic performance and writing ability
Apply online at:
https://www.dorsey.com/attorneyjobs
Please provide a resume, cover letter, and law school transcript.
Additional Info
Employer Type: Law Firm
Job Location: Denver, Colorado