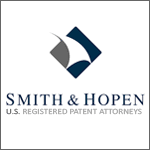 Smith & Hopen, P.A. is seeking entry-level intellectual property candidates. Candidates must be registered to practice before the United States Patent & Trademark Office (USPTO) and hold a state bar registration. Remote working is an option after a period of employment, but training and periodic meetings are held at the Tampa office. Candidates must have strong academic credentials and technical expertise.
Apply via email to:
staff@smithhopen.com
Please include a resume, writing sample, and cover letter with your submission.
Additional Info
Employer Type: Law Firm
Job Location: Tampa, FL