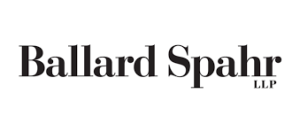 Ballard Spahr LLP is seeking a mechanical patent prosecution attorney or mechanical patent agent in our Philadelphia, Atlanta, Phoenix or Minneapolis offices to join our national IP practice. We are looking for lawyers and agents with a Mechanical Engineering background and 2-5 years of experience in patent prosecution and counseling, including preparation of patent applications, responses to Office Actions, and patentability and clearance opinions. Experience with design patents is helpful. Law firm experience, or significant in-house experience with patent preparation and prosecution is preferred. The candidate must be a member of the Patent Bar.
Ballard Spahr LLP is committed to ensuring diversity in its workplace, and candidates from diverse backgrounds are strongly encouraged to apply.
If you are a search firm, employment agency, or representative of either, you must contact Dana Casterlin, Manager of Lateral Recruiting and Integration, at casterlind@ballardspahr.com prior to submitting any candidate materials or profiles with identifying information. You will not be compensated in any way for your referral of a candidate unless otherwise stated to or agreed to prior to the submission of materials.
The health, safety and well-being of our Ballard community is a top priority. Therefore, all lawyers and staff are required to be fully vaccinated as a condition of employment. In connection with this policy, we will require proof of vaccination. We believe this is the best way for us to fulfill our legal obligation to provide a safe workplace, which has been and continues to be a top priority as we manage the many challenges of the pandemic. If you have any questions regarding the firm's vaccination policy, please contact our Chief Human Resources Officer, John DiBattista, at dibattistaj@ballardspahr.com.
Physical Requirements:
Ability to sit for long periods of time. Ability to communicate verbally and in writing. Push, pull and lift up to 40 pounds. Intermittent standing, walking, bending and stooping. Typing ability for the use of a personal computer.
The physical requirements described here are representative of those that must be met by an employee to successfully perform the functions of this job. Reasonable accommodations may be made to enable individuals with disabilities to perform the primary functions.
This Job Description describes the general content and requirements for the position. It is not an exhaustive statement of the essential functions, responsibilities, or requirements of the job; they may change from time to time and are dictated by the needs of the firm and the managers to whom the employee will report. Employment is at will. Ballard Spahr may change the functions and responsibilities of the position at any time, and it may reassign the employee to another department in its sole discretion.
Apply online at:
https://selfapply.ballardspahr.com/viRecruitSelfApply/ReApplicantEmail.aspx?Tag=8054cc7e-e54d-44cb-9047-54a484e6a3ca
Include resume, transcripts, and writing samples if possible in your submission.
Additional Info
Employer Type: Law Firm
Job Location: Philadelphia, Atlanta, Phoenix, Minneapolis