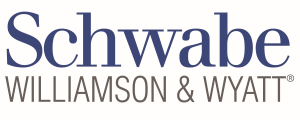 Schwabe currently has an opening for a full-time, licensed Biotechnology and/or Pharmaceutical Patent Associate in our Intellectual Property department. This position will be based out of Mountain View, CA, Portland, OR, Bend, OR, or Seattle, WA. The ideal candidate will have: 3 to 4 years of experience in biotech/pharma patent prosecution; Advanced degree in biology, biochemistry, immunology or other life sciences; Excellent writing, interpersonal and communication skills; Excellent academic credentials and professional references; Demonstrated ownership of projects and willingness to work in a team-oriented setting, but with significant independence; Strong client service ethics; USPTO registration required;
CA, OR or WA bar required (for Mountain View, Portland, Bend, or Seattle). The pay range for this position is $150,000 - $180,000, depending on job skills and experience. The position is also eligible for discretionary merit bonus and consideration at the end of each calendar year. A listing of benefits can be found here: https://www.schwabe.com/benefits-and-firm-paid-expenses.
Apply online at:
https://www.schwabe.com/careers-attorneys
Candidates should submit PDFs of their cover letter, resume, law school transcripts, and a writing sample directed to Michelle Baird-Johnson, Schwabe's Director of Talent Acquisition & Integration. Inquiries are maintained in confidence.
Additional Info
Employer Type: Law Firm
Job Location: Mt. View, Portland, Bend, Seattle