New Patently-O Law Journal article by Colleen V. Chien, Professor of Law and Co-Director, High Tech Law Institute, and Janelle Barbier and Obie Reynolds, both second-year JD students; all at Santa Clara University School of Law.  Below they summarize their findings.

As the America Invents Act (AIA) turns 10, patent students across the country may be asking: if the law is already a decade old, why am I spending so much time learning pre-AIA law? Though patents filed before the transition date will remain in force up through March 2033, a good 10+ years away, teachers may also be wondering which regime to emphasize and for how long the pre-AIA rules will still be considered fundamental rather than footnote material. We address these questions empirically by analyzing the effective dates of patents and patent applications currently being litigated or pursued. Our analysis resoundingly confirms that both regimes matter and that the pre-AIA prior art regime appears likely to continue to be relevant for much of the next decade. But how much it matters depends: as the graphs below show, patent lawsuits overwhelmingly continue to feature pre-AIA patents. We estimate that ~90% of patent litigations initiated in 2020 included a patent with an effective filing date before the AIA transition date of March 16, 2013. But the inverse is true of patents currently being  prosecuted: ~94+ of applications currently pending before the USPTO, we estimate, are governed by the AIA. In the accompanying PatentlyO Bar Journal article, The AIA at Ten – How Much Does the Pre-AIA Prior Art Regime Still Matter?, 2021 Patently-O Patent Law Journal 35, we explain our methods, sources, and approach and how pre- and post-AIA law are likely to both remain important for some time but that the distinction doesn't necessarily matter in the vast majority of cases.
Figure 1: Percentage of Patent Litigations Including a Pre-AIA Patent, by Year Litigation Initiated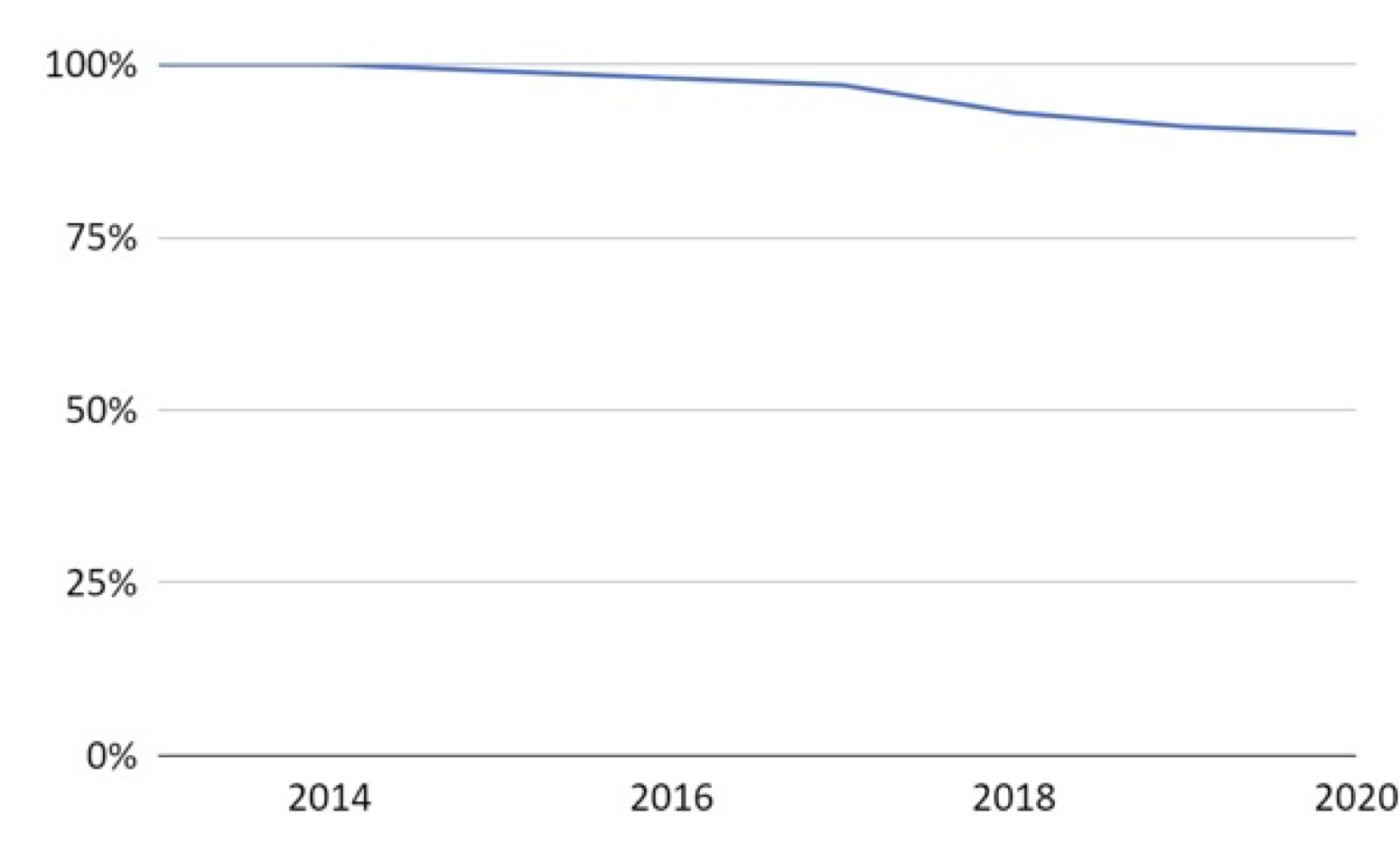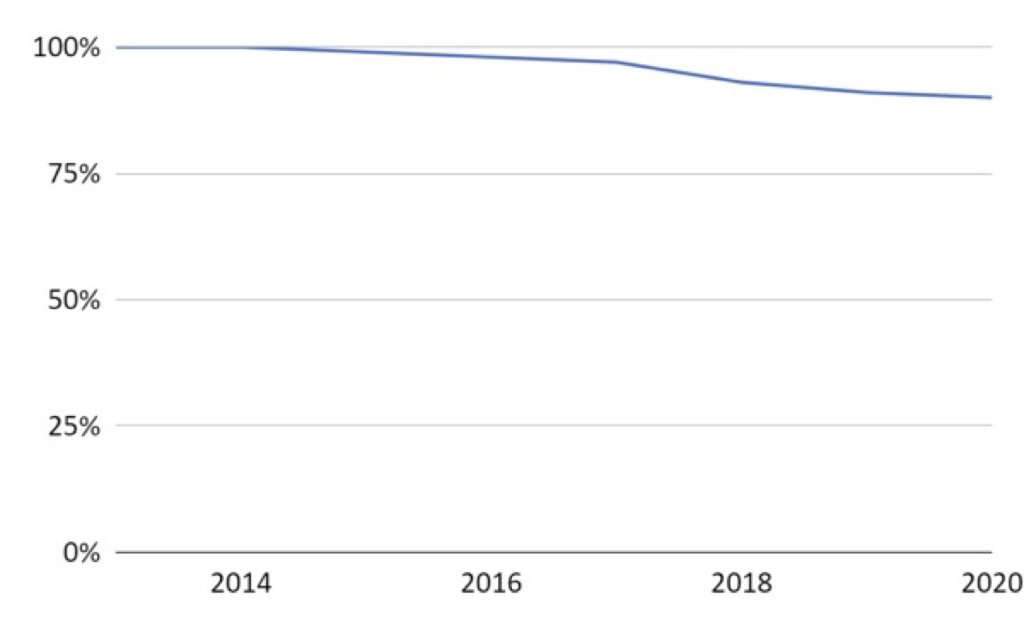 Figure 2: 2021 Pending Patent Applications Pre- vs. Post-AIA (Point Estimate)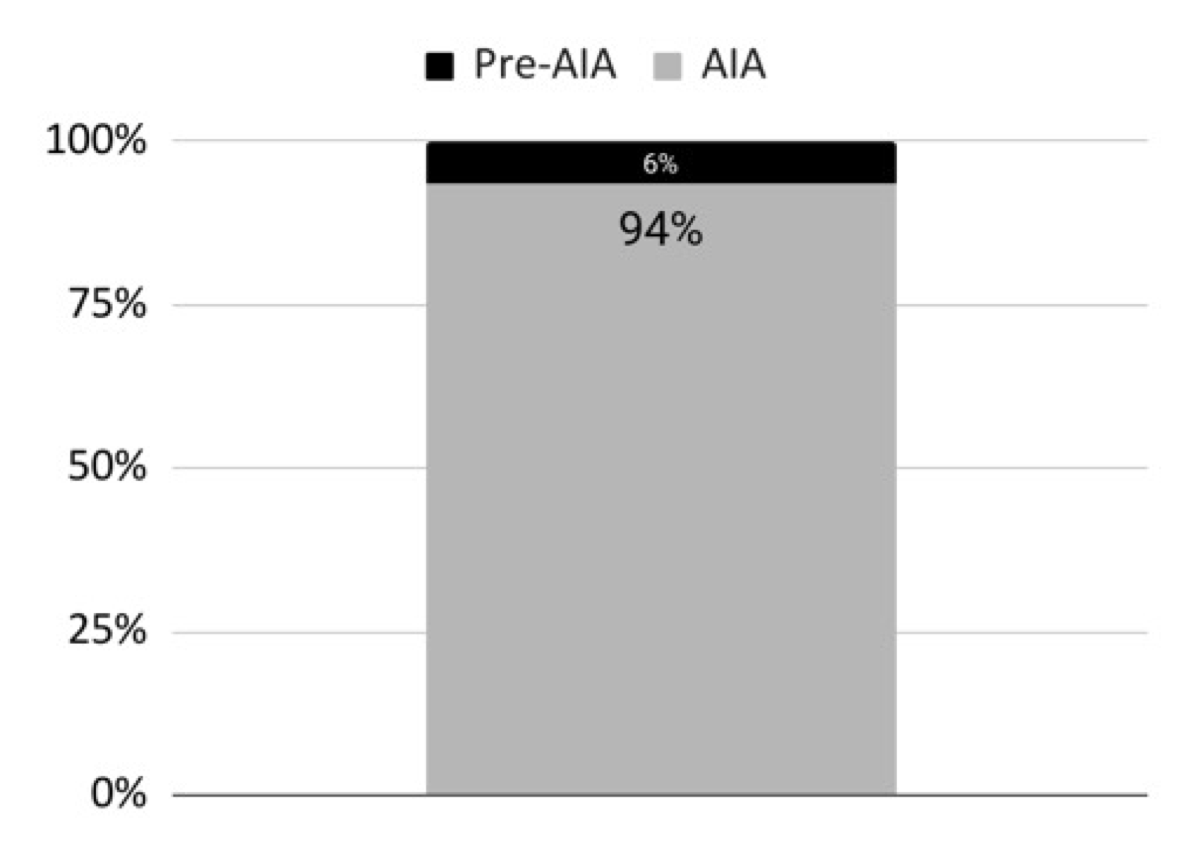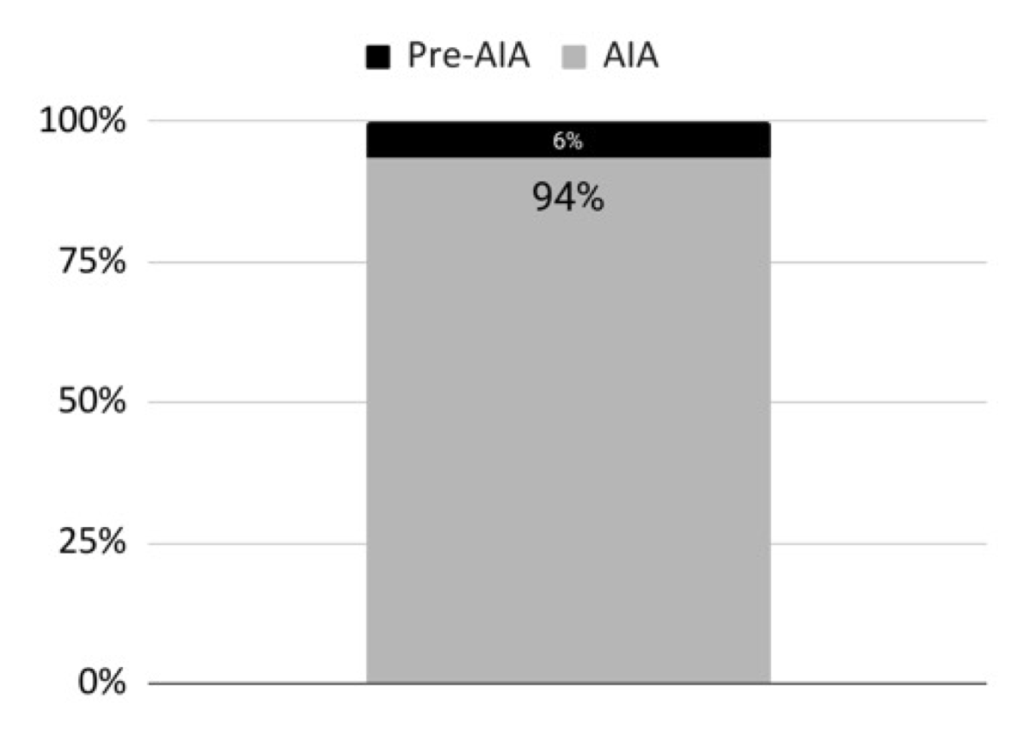 We thank LaTia Brand of Harrity Analytics and the Stanford NPE Database, described in Shawn Miller et al., Who's Suing Us? Decoding Patent Plaintiffs since 2000 with the Stanford NPE Litigation Dataset, 21 Stan. Tech. L. Rev. 235 (2018) for sharing data with us. Our data can be found at: https://doi.org/10.7910/DVN/3HJ2PB.
Read: Colleen Chien, Janelle Barbier, and Obie Reynolds, The AIA at Ten – How Much Does the Pre-AIA Prior Art Regime Still Matter?, 2021 Patently-O Patent Law Journal 34. (Chien.2021.Pre-AIAPatents)
Prior Patently-O Patent L.J. Articles:
Nicholas Shine, Covid-19 Pandemic's Impact on the U.S. Patent System Through November 2020, 2021 PatentlyO Law Journal 27 (2021) (Shine.2021.COVID-19Impact)
Thomas F. Cotter, Is Global FRAND Litigation Spinning Out of Control, 2021 PatentlyO Law Journal 1 (2021) (Cotter.2021.GlobalFRANDLitigation)
Colleen V. Chien, Nicholas Halkowski, Maria He, and Rodney Swartz, Parsing the Impact of Alice and the PEG, 2020 Patently-O Law Journal 20 (2020) (Chien.2020.ImpactOfAlice)
Paul R. Michel and John T. Battaglia, eBay, the Right to Exclude, and the Two Classes of Patent Owners, 2020 Patently-O Law Journal 11 (2020) (Michel.2020.RightToExclude)
Thomas F. Cotter, Two Errors in the Ninth Circuit's Qualcomm Opinion, 2020 Patently-O Patent Law Journal 1 (2020). (Cotter.2020.TwoErrors.pdf)
Jasper L. Tran & J. Sean Benevento, Alice at Five, 2019 PatentlyO L.J. 25 (2019) (Tran.2019.AliceatFive.pdf)
Bernard Chao, Implementing Apportionment, 2019 PatentlyO L.J. 20 (Chao.2019.ImplementingApportionment)
Jeremy C. Doerre, Is There Any Need to Resort to a § 101 Exception for Prior Art Ideas?, 2019 PatentlyO L.J. 10. (2019.Doerre.AnyNeed)
Colleen V. Chien, Piloting Applicant-Initiated 101 Deferral Through A Randomized Controlled Trial, 2019 Patently-O Patent Law Journal 1. (2019.Chien.DeferringPSM)
David A. Boundy, Agency Bad Guidance Practices at the Patent and Trademark Office: a Billion Dollar Problem, 2018 Patently-O Patent Law Journal 20. (Boundy.2018.BadGuidance)
Colleen Chien and Jiun-Ying Wu, Decoding Patentable Subject Matter, 2018 PatentlyO Patent Law Journal 1.
Paul M. Janicke, Patent Venue: Half Christmas Pie, And Half Crow, 2017 Patently-O Patent Law Journal 13. (Janicke.2017.ChristmasPie.pdf)
Paul M. Janicke, The Imminent Outpouring from the Eastern District of Texas, 2017 Patently-O Patent Law Journal 1 (2017) (Janicke.2017.Venue)
Mark A. Lemley, Erik Oliver, Kent Richardson, James Yoon, & Michael Costa, Patent Purchases and Litigation Outcomes, 2016 Patently-O Patent Law Journal 15 (Lemley.2016.PatentMarket)
Bernard Chao and Amy Mapes, An Early Look at Mayo's Impact on Personalized Medicine, 2016 Patently-O Patent Law Journal 10 (Chao.2016.PersonalizedMedicine)
James E. Daily, An Empirical Analysis of Some Proponents and Opponents of Patent Reform, 2016 Patently-O Patent Law Journal 1. (Daily.2016.Professors)
Tristan Gray–Le Coz and Charles Duan, Apply It to the USPTO: Review of the Implementation of Alice v. CLS Bank in Patent Examination, 2014 Patently-O Patent Law Journal 1. (GrayLeCozDuan)
Robert L. Stoll, Maintaining Post-Grant Review Estoppel in the America Invents Act: A Call for Legislative Restraint, 2012 Patently-O Patent Law Journal 1 (Stoll.2012.estoppel.pdf)
Paul Morgan, The Ambiguity in Section 102(a)(1) of the Leahy-Smith America Invents Act, 2011 Patently-O Patent Law Journal 29.  (Morgan.2011.AIAAmbiguities)
Joshua D. Sarnoff, Derivation and Prior Art Problems with the New Patent Act, 2011 Patently-O Patent Law Journal 12 (sarnoff.2011.derivation.pdf)
Bernard Chao, Not So Confidential: A Call for Restraint in Sealing Court Records, 2011 Patently-O Patent Patent Law Journal 6 (chao.sealedrecords.pdf)
Benjamin Levi and Rodney R. Sweetland, The Federal Trade Commission's (FTC) Recommendations to the International Trade Commission (ITC):  Unsound, Unmeasured, and Unauthoritative, 2011 Patently-O Patent Law Journal 1 (levi.ftcunsound.pdf)
Kevin Emerson Collins, An Initial Comment on King Pharmaceuticals: The Printed Matter Doctrine as a Structural Doctrine and Its Implications for Prometheus Laboratories, 2010 Patently-O Patent Law Journal 111 (Collins.KingPharma.pdf)
Robert A. Matthews, Jr., When Multiple Plaintiffs/Relators Sue for the Same Act of Patent False Marking, 2010 Patently-O Patent Law Journal 95 (matthews.falsemarking.pdf)
Kristen Osenga, The Patent Office's Fast Track Will Not Take Us in the Right Direction, 2010 Patently-O Patent L.J. 89 (Osenga.pdf)
Peter S. Menell,  The International Trade Commission's Section 337 Authority, 2010 Patently-O Patent L.J. 79
Donald S. Chisum, Written Description of the Invention: Ariad (2010) and the Overlooked Invention Priority Principle, 2010 Patently‐O Patent L.J. 72
Kevin Collins, An Initial Comment on Ariad: Written Description and the Baseline of Patent Protection for After-Arising Technology, 2010 Patently-O Patent L.J. 24
Etan Chatlynne, Investigating Patent Law's Presumption of Validity—An Empirical Analysis, 2010 Patently-O Patent L.J. 37
Michael Kasdan and Joseph Casino, Federal Courts Closely Scrutinizing and Slashing Patent Damage Awards, 2010 Patently-O Patent L.J. 24 (Kasdan.Casino.Damages)
Dennis Crouch, Broadening Federal Circuit Jurisprudence: Moving Beyond Federal Circuit Patent Cases, 2010 Patently-O Patent L.J. 19 (2010)
Edward Reines and Nathan Greenblatt, Interlocutory Appeals of Claim Construction in the Patent Reform Act of 2009, Part II, 2010 Patently‐O Patent L.J. 7  (2010) (Reines.2010)
Gregory P. Landis & Loria B. Yeadon, Selecting the Next Nominee for the Federal Circuit: Patently Obvious to Consider Diversity, 2010 Patently-O Patent L.J. 1 (2010) (Nominee Diversity)
Paul Cole, Patentability of Computer Software As Such, 2008 Patently-O Patent L.J. 1. (Cole.pdf)
John F. Duffy, The Death of Google's Patents, 2008 

Patently

 O-Pat. L.J. ___ (googlepatents101.pdf)
Mark R. Patterson, Reestablishing the Doctrine of Patent Exhaustion, 2007 Patently-O Patent L.J. 38
Arti K. Rai, The GSK Case: An Administrative Perspective, 2007 Patently-O Patent L.J. 36
Joshua D. Sarnoff, BIO v. DC and the New Need to Eliminate Federal Patent Law Preemption of State and Local Price and Product Regulation, 2007 Patently-O Patent L.J. 30 (Download Sarnoff.BIO.pdf)
John F. Duffy, Are Administrative Patent Judges Unconstitutional?, 2007 Patently-O Patent L.J. 21. (Duffy.BPAI.pdf)
Joseph Casino and Michael Kasdan, In re Seagate Technology: Willfulness and Waiver, a Summary and a Proposal, 2007 Patently-O Patent L.J. 1 (Casino-Seagate)