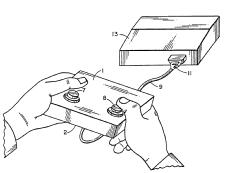 Jacobs v. Nintendo of America, Inc. (Fed. Cir. May 28, 2004).
Jacobs owns a patent on a tilt sensitive controller. (U.S. Patent No. 5,059,958). In a prior suit over the same technology, Jacobs settled with Analog. Under the terms of the settlement agreement, Analog was given a full license to practice the patented technology.
In the present case, Jacobs sued Nintendo, asserting that Nintendo's "Kirby Tilt 'n Tumble" for Game Boy. Nintendo responded, and the lower court agreed, that Nintendo's actions fell under the settlement agreement, since the accelerometers for the game were purchased from Analog.
On appeal, the Federal Circuit (J. Bryson) affirmed the lower court's dismissal on summary judgment.
We agree with the district court that the clause granting Analog the right to sell its accelerometers for use in tilt-sensitive control boxes barred Jacobs from interfering with that right by prohibiting Analog's customers from using the accelerometers for that authorized purpose by making, using, and selling control boxes incorporating Analog's devices. That interpretation is in accordance with the basic contract law principle that a party may not assign a right, receive consideration for it, and then take steps that would render the right commercially worthless.
Additionally, the Appellate Panel held that the "noninfringing use" doctrine did not apply.
The "noninfringing use" doctrine applies when a patentee or its licensee sells an article and the question is whether the sale carries with it a license to engage in conduct that would infringe the patent owner's rights. In that setting, absent an express agreement between the parties, determining whether the sale conveys with it the implied right to use the article in an infringing manner may depend on whether there is any noninfringing use for the article. If there is no noninfringing use, it may be reasonable to infer that there has been "a relinquishment of the patent monopoly with respect to the article sold." United States v. Univis Lens Co., 316 U.S. 241, 249 (1942) … This case is quite different … because the [settlement] agreement must be understood to authorize Analog to sell its accelerometers for [otherwise infringing] uses.