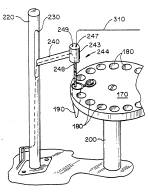 Princeton Biochemicals v. Beckman Coulter (Fed. Cir. 2005).
Princeton owns a patent on a capillary electrophoresis device and sued Beckman for infringement. A jury decided in favor of Princeton on all issues including infringement and nonobviousness. However, in a post-trial judgment, the district court issued a JMOL setting aside the jury verdict — instead finding all counts in favor of Beckman.
Princeton appealed.
According to the CAFC, a jury's "conclusions on obviousness" are a question of law — reviewed without deference. The underlying findings of fact are reviewed for substantial evidence.
The legal conclusion, that a claim is obvious within § 103(a), depends on at least four underlying factual issues: (1) the scope and content of the prior art; (2) differences between the prior art and the claims at issue; (3) the level of ordinary skill in the pertinent art; and (4) evaluation of any relevant secondary considerations. Graham v. John Deere.
In this case, the CAFC agreed with the district court, that there was not substantial evidence to support the jury verdict.
JMOL of obviousness affirmed.