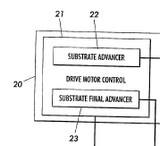 Ex parte Moore (BPAI 2005) (NOT PRECEDENTIAL)
In the wake of the CAFC's recent IPXL v. Amazon opinion, the PTO's Board of Patent Appeals has decided its own Section 101 case — rejecting a patent application based on its use of mixed use of method limitations and apparatus limitations in a single claim.
The statutory categories under 35 U.S.C. § 101 are expressed in the alternative, i.e., process, machine, manufacture or composition of matter. Thus, the appellants' claim 24, which encompasses two statutory categories, i.e., apparatus and method, violates 35 U.S.C. § 101. See Ex parte Lyell, 17 USPQ2d 1548, 1551 (BPAI 1990).
Here, claim 24 was directed to a "backlash reduction apparatus" that comprised a number of components, and, in addition, required "the backlash reduction apparatus executing a method comprising: advancing a substrate . . ."
Interestingly, the Examiner did not raise this issue – rather, it was raised, apparently sua sponte, by the Board after the Examiner's reasons for rejection were themselves rejected.