Name and contact-information is available for registered US patent attorneys. This weekend, I took a quick look at that database and compared it to US census data. You see lots of law firms with odd names headlining the banner, and I wanted to see whether attorneys with uncommon names were rising to the top — or, instead, if patent attorneys just have uncommon names. I also wanted to see whether the rate of various names could help us deduce anything about minority representation before the PTO
Wider Distribution of Names: In the general American population, 20% of the population is represented by the top 115 surnames. For patent attorneys, however, it takes the top 245 surnames to reach the 20% mark. More generally, the data does show that patent attorneys are more likely to have uncommon names as compared to the US population.
Here's a look at the top-twenty surnames of patent attorneys. You can see eight of the top-twenty PTO names do not fit within the US Population top-twenty. These are Lee, Kim, Chen, Murphy, Nguyen, Young, Wang, and Cohen.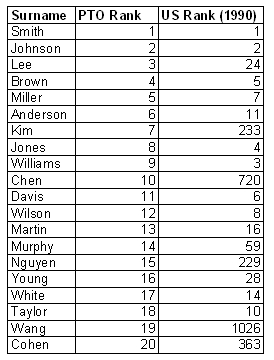 On the other side, names that are severely underrepresented include Garcia, Martinez, Rodriguez, and Hernandez.
Notes:
I used the 1990 census data because 2000 census names have not been released yet.