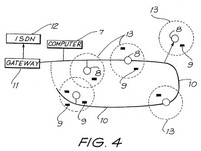 CSIRO v. Buffalo Technology (E.D.Tex. 2007)
CSIRO operates as a technology licensing arm of the Australian Government. CSIRO does not practice its inventions, but has asserted its wireless LAN patent against a number of accused infringers, including Intel, Microsoft, Marvell, and Buffalo. The patent is broad enough to cover all 802.11a/g wireless technology and has a 1992 priority date.
In the case against Buffalo, CSIRO won a slam-dunk summary judgment of validity and infringement. The court then considered whether to award a permanent injunction in favor of the non-practicing entity (NPE).
The Supreme Court's recent pronouncement in eBay v. MercExchange makes clear that injunctive relief will not always be available for a patent holder — even after showing that the patent is valid and infringed. Rather, to obtain an injunction, a patentee must show:
Irreparable injury due to continued infringement;
Insufficiency of monetary damages;
Balance of hardship weighs in favor of patentee; and
The public interest supports an injunction.
Although the purpose of a non-practicing licensing entity is usually to obtain monetary royalties, the Supreme Court has held a willingness to license or lack of commercial use are not sufficient reasons to deny injunctive relief.
Here, the district court found that CSIRO would suffer irreparable injury due to continued infringement. In particular, the court pointed to two issues:
"[Without an injunction, CSIRO's] research institution [will continue to be] impugned just as another company's brand recognition or good will may be damaged [by the sale of unauthorized infringing goods]."
Because ongoing damage calculations would "not necessarily include other [unmentioned] non-monetary license terms that are as important as monetary terms," [m]onetary damages are not adequate to compensate CSIRO for its damages, which are not merely financial.
In its decision, the court found relevant (1) that CSIRO is an ongoing research institution, as opposed to a small shop such as z4; (2) that the CSIRO invention was a core feature of wireless standards as opposed to a small component of a larger product;
Notes: