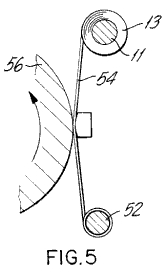 Baldwin Graphics v. Siebert (Fed. Cir. 2008). [UPDATED 1/15/08 7:30pm]
Judge Moran of the Northern District of Illinois granted Siebert's motion for summary judgment of non-infringement — finding that Baldwin's patented printing press cleaning system and method did not extend to cover Siebert's products. On appeal, the CAFC reversed the district court's claim construction and remanded.
"A" Means One or More: In a well tred battle, the CAFC found that the lower court had mistakenly limited the claim element of "a pre-soaked fabric roll" to only allow for a single fabric roll. This follows the general rule that "a" or "an" are interpreted as "one or more." Exceptions do apply, but only when the patentee has shown "clear intent" to limit the meaning of those articles. As a corollary, later use of "the" or "said" when referring to the element either in the patent or in PTO correspondence does nothing to alter the rule.
System versus Method Elements: The parties agreed that the system element "reduced air content cleaning fabric" was substantially similar to the method of "reducing air content of a cleaning fabric." Judge Moran interpreted these together and required that the system element also have reduced air content "prior to being wound." On appeal, the CAFC cautioned district courts about joint interpretation of system and method claims and found that the lower court had improperly imported a limitation into the system.