The following guest post is by Matthew Smith
The grant rate of motions to stay is highly judge-dependent and (somewhat less obviously) district-dependent. The table below shows the approximate grant rate of contested motions to stay in major patent litigation districts since about the beginning of 2008. These data included around 150 motions, after excluding follow-on or duplicate motions on the same facts (e.g., in parallel cases against different defendants), stipulated motions, patent-owner-initiated motions, and motions initiated by declaratory judgment plaintiffs. The districts below are listed in order of decreasing frequency of the occurrence of such motions.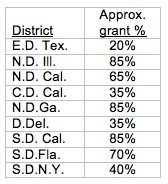 The Eastern District of Virginia, Western District of Wisconsin, and Northern and Middle Districts of Florida had relatively few orders, and were excluded.
A review of the orders confirms a relatively clean division into favorable and unfavorable judges for stays. This division is often flawlessly mirrored in the reasoning of written orders. Courts usually analyze three factors when considering stays: prejudice, timing and simplification. Where stays are disfavored, courts focus on the prejudice that delay may cause to the patent owner, find excessive delay in filing the request a few months after service of the complaint, and identify a plethora of issues that will be left unresolved by reexamination. Courts where stays are favored search in vain for particularized prejudice to the plaintiff (e.g. deteriorating evidence), find that requests submitted on the eve of trial are timely, and focus on the possibility that the claims could be canceled by the PTO when analyzing simplification.
Despite this division, some courts are breaking out of the paradigm of binary yes-or-no orders. The relatively few stays granted in East Texas pending ex parte reexamination, for example, have usually required the defendant to forego defenses on the merits of prior art considered in reexamination (see QPSX Dev. v. Ciena Corp., Case No. 2:07-CV-118-CE (E.D.Tex. Aug. 27, 2009) or submitted to reexamination unless combined with new art (see Premier Int'l Assoc. LLC v. Hewlett Packard Co., Case No. 2:07-CV-395 (DF)(E.D.Tex. May 18, 2009). One court has required non-requesting defendants to agree to be bound by inter partes estoppel (see Riparius Ventures LLC v. Skype Technologies, S.A., Case No. 07-cv-00812 (N.D.Ill. June 6, 2009). Some courts are also more flexible with timing, granting stays even prior to the PTO's decision on the request for reexamination, (see, e.g. CTC Cable Corp. v. Mercury Cable & Energy, LLC, Case No. SACV 09-261 DOC (C.D.Cal. Aug. 3, 2009), or pending some specific event in reexamination (see, e.g. HTC Corp. v. Technology Properties Ltd., Case Nos. C 08-00882 JF and C 08-00877 JF (N.D.Cal. June 16, 2009)).
There also appears to be a recent trend favoring stays pending inter partes reexamination, as opposed to ex parte reexamination. The estoppel associated with inter partes reexamination is sometimes viewed as a simplifying factor for issues in litigation. See, e.g., Anascape Ltd. v. Microsoft Corp., Case No. 9:06-CV-158 (E.D. Tex. Feb. 23, 2007); see also Ceiva Logic Inc. v. Frame Media Inc., Case No. SACV 08-00636-JVS (C.D.Cal. June 9, 2009); Wall Corp. v. Bonddesk Group LLC, Case No. 07-844 GMS (D.Del. Feb. 24, 2009).
The data for this study were helpfully provided by the Docket Navigator.