By Dennis Crouch
Earlier this week, I directed your attention to the fact that the Board of Patent Appeals (BPAI) now has a backlog of more than 20,000 pending appeals. The appeal backlog continues to rapidly rise. Each month for at least the past year, the BPAI has disposed of only about half of the number of cases that it received. USPTO Director David Kappos and his senior staff recognize the appeal backlog as a serious issue. Their initiatives include more judges; a soon-to-be-announced new Chief Judge, and potentially raising the fees associated with filing an appeal (perhaps only if the PTO is given fee-setting authority).
For a number of reasons, the Board of Patent Appeals (BPAI) typically writes an opinion in each and every case decided on the merits. I wanted to see whether the Board's opinion writing methods have changed as some sort of response to the growing backlog.
For today's study, I downloaded all of the BPAI's published ex parte merits decisions from three specific time periods: February 2009 (407 opinions), January 2010 (455 decisions), and January 2011 (457 opinions).* I then wrote a script to count the number of words in each decision and graphed the results.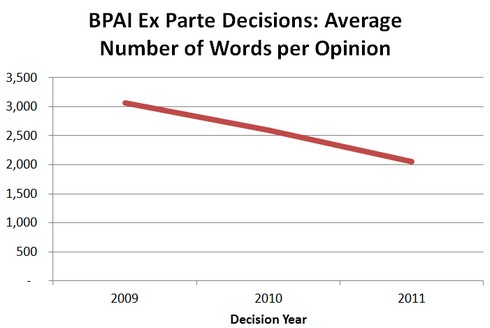 As the chart shows above, in a two-year period the average number of words per BPAI opinion has dropped from over 3,000 words per opinion to just about 2,000 words per opinion. A few large opinions each year skew the average upward. However, the change in the median word length is even more dramatic. The median opinion from February 2009 includes 60% more words than the median opinion from January 2011. As a check, I also included the outcome (Affirmed, Affirmed-in-Part, Reversed) and technology center as control variables. Those did nothing to reduce this reported effect.
Of course, the number of words in an opinion does not necessarily indicate that the decisions are lower quality or even that the opinions are lower quality. However, the change at least suggests that the BPAI judges are spending less time drafting the opinions.
Jason Rantanen has written several recent posts on the Federal Circuit's Rule 36 affirmances. In those cases, the Federal Circuit simply affirms the lower court decision without writing an opinion. "Rule 36" refers to Rule 36 of the Rules of Practice of the Court of Appeals for the Federal Circuit. That rule provides the court with express permission to enter a judgment of affirmance without opinion when the court determines that the lower court should be affirmed and an opinion would have no precedential value. The BPAI does not have a parallel to Rule 36 in its standard operating procedures.
Notes
* I used February 2009 because in a glitch for January 2009 data.
I was just directed to Aaron Feigelson's recent post on this topic.