I recently created a database of 10,000 recently released ex parte decisions by the Board of Patent Appeals and Interferences (BPAI) with dates ranging from November 2009 to June 2011. These ex pare BPAI decisions are easy to work with because they always involve a patent applicant appealing an examiner's rejection of one or more claims. As I discussed in previous work, vast majority of ex parte BPAI decisions involve questions of obviousness and the remainder most often involve anticipation.
General Results: Of BPAI opinions in my sample decided on the merits, about 52% fully affirmed the examiner rejections, 34% reversed, and 14% affirmed-in-part. (About 8% of the decisions were not included in this study because they involved other outcomes such as remands and decisions on motions for rehearing).
Judicial Diversity: These averages hide what appears to be major differences within the ranks of BPAI Administrative Patent Judges. To reach this conclusion, I identified the judge that authored each opinion as well as the other judges associated with the decision. For the 76 most active judges, I then calculated for each judge the percentage of cases where he or she at least partially sided with the patent applicant — i.e., either reversed or affirmed-in-part. The chart below shows a histogram of the outcomes — showing that there is a wide diversity in expected outcomes depending upon the judges on the panel.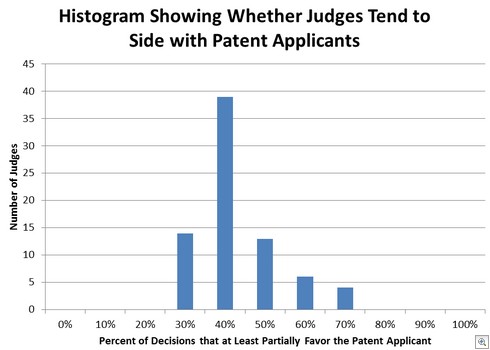 At the low end, about 14 of the 76 judges at least partially side with the patent applicant in less than 40% of cases. At the high end, 10 of the 76 judges at least partially side with the patent applicant in more than 60% of cases.
The statistics here are fairly powerful because each judge in the sample is involved with at least 100 decisions and the median judge was involved with 370 decisions. Thus, based upon our sample size we can easily reject the null hypothesis that the judges all have the same likelihood of at least partially siding with the patent applicant. And, while there are some differences between appeals arising from the various technology centers, those differences do not explain the judicial diversity shown above. An additional potential confounding factor is the fact that the assignment of judges is not entirely random — however, in these ex parte cases judges appear to be chosen based on technical expertise rather than the likelihood that the patentee should win.
BPAI Backlog: As an important aside, the BPAI's backlog of pending appeals continues to grow. Thus far in FY2011, the backlog has grown more than 25% and now rests at over 22,000 pending appeals.