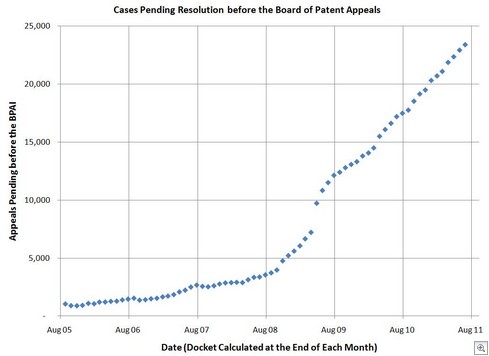 As Congress considers adding additional burden to the Board of Patent Appeals, the Board's backlog of pending cases continues its dramatic rise. The process-flow of the Board appears to be fairly steady-state. Each month, the Board receives about 1,150 cases and disposes of (decides or remands) about half (575) of those cases. The other half goes to the backlog.
Operating at this rate, it will take 3 1/2 years for the BPAI to dispose of the cases already in its docket. Thus, assuming that the BPAI takes appeals in-turn, an appeal docketed today will not be decided until the year 2015.
A note on the data: The chart is compiled from the BPAI's own reports that are available online. [Link] A case is only considered part of the BPAI backlog once it receives an "appeal number." Appeal numbers are assigned only after briefing is complete. The large "jump" in the reported backlog in early 2009 is due largely to a clerical change that identified a large number of briefed appeals that had not been given appeal numbers.
Inquiry: Does anyone have a nice memo or chart that they use to help in choosing the best after-final practice? (dcrouch@gmail.com)