On Thursday, September 15, 2011, at least 54 new patent cases were filed – accusing over 800 corporate entities of patent infringement. These numbers represent an all-time-high for a single day filing. In Thursday's filings, the average complaint accused 16 entities of patent infringement. Those numbers are indicative of a trend over the past few years to accuse multiple parties of infringement within a single lawsuit.
Thursday's highs are not random. On Friday, September 16, 2011, President Obama was scheduled to, and did actually, enact a major patent reform package known as the Leahy-Smith America Invents Act (H.R. 1249). One provision of the new law strips courts of their power to join multiple defendants in a single lawsuit simply based upon the fact that the defendants are all alleged to infringe the same patent.
[A]ccused infringers may not be joined in one action as defendants or counterclaim defendants, or have their actions consolidated for trial, based solely on allegations that they each have infringed the patent or patents in suit.
Under the new law, joinder of multiple defendants is still possible, but "only if" the right to relief against all the parties (1) "aris[es] out of the same transaction, occurrence, or series of transactions or occurrences relating to the making, using, importing into the United States, offering for sale, or selling of the same accused product or process" and (2) is based on common questions of fact.
This dis-joinder provision applies to all cases filed on or after the September 16 date of enactment and it is likely that it is the dis-joinder provision that led to the massive filings. As Kyle Jensen of PriorSMArt wrote:
The uncertainty caused by patent reform produced a flood of litigation these last two weeks, which has made our alerts more voluminous than is typical. Last Thursday 54 new patent cases were opened nationwide against a total of 804 named defendants (based on cases that have hit CM/ECF, some might not have). That is an all-time record for both statistics by my count.
Plaintiffs in the most recent filings include non-practicing entities such as LVL Patent Group; GeoTag; Innovatio IP Ventures (not IntellectualVentures); InMotion Imagery; LVL purchased its patents from CyberFone – those patents had been up for auction in an Ocean Tomo auction but then privately changed hands in 2011. Likewise, InMotion's patents were purchased at an Ocean Tomo auction. Innovatio obtained its patents from Broadcom.
Using information from PACER and LEXMACHINA, I created my own chart below of the number of cases filed in July, August, and September 2011.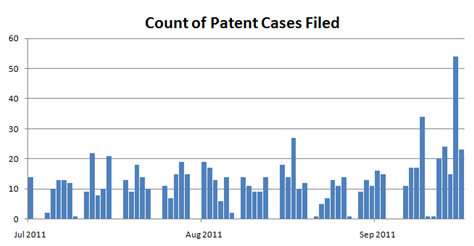 The bulk of these new filings are in the usual venues of E.D. Texas (15%), Delaware (13%), C.D. California (9%), N.D. Illinois (8%), and N.D. California (6%). However, there is also a surprising diversity in that in the past 80 days, thirty-three jurisdictions have seen five or more new patent complaints or transferred cases. One potential impact of the new dis-joinder rules is a greater jurisdictional diversity, however, that result is not guaranteed.
The dis-joinder provisions were put in place as a hurdle for non-practicing entities alleging infringement across an industry. However, I have spoken with a number of in-house counsel that are a bit worried about the new joinder rules. In particular, the mass-defendant-litigation provides potential cover for in-house counsel and may smooth settlement because the plaintiffs rarely want to try more than two defendants before a single jury.