After a number of years on the rise, the average pre-issuance patent application pendency began to drop in 2010. The PTO hopes that its renewed effort on hiring examiners and addressing prosecution bottlenecks can force this pendency even lower.
For the chart below, I built a database of all utility patents issued since January 2005 and calculated the average number of days in prosecution for each US patent, grouped by patent issue date. Thus, the chart includes patents issuing from original applications and continuation filings as well as US national-stage filings based upon foreign and PCT priority. For my calculations, I did not consider provisional application filings and I did not use the filing of an RCE to cut-short the application pendency.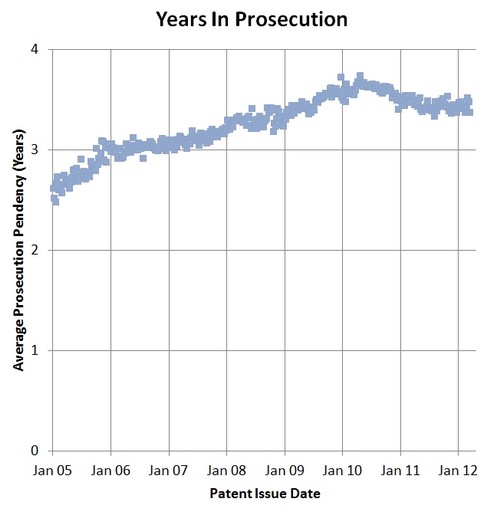 Some applicants like to see the odds that a patent will issue within a given timeline. The chart below groups patents by issue date and then reports the percent of patents that issued within a given period relative to the application date. In particular, the chart shows the percent of patents that issue within two years, three years, four years, and five years from application.
Looking at chart – the lowest series shows the percent of the issued patents that issued within two years of the application. Back in 2005, about one-third issued within two years, that percentage dropped steadily until 2010 when the USPTO began increasing the speed of throughput. In 2010, the two-year series began to drop again — likely because the USPTO began its initiative of Clearing the Oldest Patent Applications (COPA).