InterDigital just sold 1,700 worldwide patents and pending applications to Intel for $375 million in cash – boosting Intel's mobile circuitry patent portfolio. InterDigital was able to transform a substantial number of its fairly non-liquid assets (patents) into cash. On the purchase, InterDigital's stock price immediately jumped about 28%. The price change represents an increase of Company valuation of around $260 million. One way to look at this price jump is as a reflection in the ongoing difficulty in monetizing patent rights. Before the deal, investors seemingly valued the patents at only 1/3 of their eventual cash value — largely because it would have been much too speculative to predict that the patents could actually be sold for the price asked.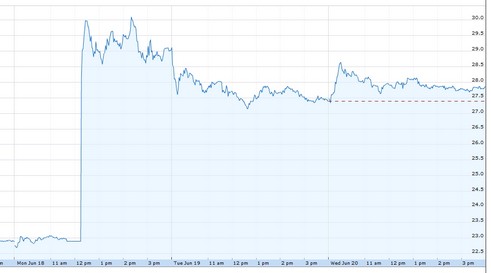 The chart above shows InterDigital's stock price jump immediately following the deal's announcement. The chart below looks at InterDigital stock prices for the past six months. The sale date and price jump is seen at the far right. As is obvious, the sale does not make-up for the huge loss in valuation that the company has seen over the past few months.

Although every story is unique, it is reflective upon a fact that business leaders know — although patents are valuable and useful assets, it is exceedingly difficult to rely on patents as a company's primary revenue source. Kodak knows this well. The company is in bankruptcy and is in the process of selling its final few assets — mainly intellectual property rights that it could not previously fully monetize during.