by Dennis Crouch
I am now projecting that the USPTO will issue a record total of more than 250,000 utility patents this calendar year (2012) that is an 11% jump over the previous record set in 2011 and almost 60% more than the office issued just four years ago in 2008. (see the chart below).  The rise is largely attributed to President Obama's choice of David Kappos as director of the USPTO. Kappos has focused the Office's attention toward addressing the large backlog of cases pending at the PTO. The increasing number of patent grants reflect the results of that focus.  Behind the scenes, the USPTO is also rejecting more patent applications than ever before.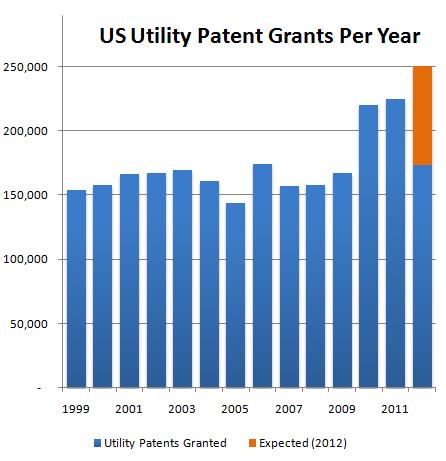 Through these efforts, the USPTO's backlog of unexamined applications dropped by over 100,000 cases in the past year from a starting point of over 700,000 unexamined cases.
I also expect that the USPTO will issue over 22,000 design patents in 2012.  Apple's $1 billion jury verdict is believed to largely rest on the value of Apple's design patents covering the ornamental shape of their iconic handheld devices.