By Jason Rantanen
The primary issue in this case is whether the Federal Circuit has subject matter jurisdiction over the appeal.  On that issue, the court's analysis of the arguments presented by the parties is solid.  However, in addition to concluding that it lacks jurisdiction, the panel seemingly also rules on a substantive issue in the appeal: whether patent law preempts the plaintiff's state law claims for unjust enrichment and breach of implied contract based on its alleged use (without payment) of the plaintiff's creative ideas.  Without engaging in any substantive analysis, the court concludes that "nothing in federal patent law now stands in the way of Mr. Wawrzynski pursuing his state law claims," a result that is – at least based on the court's minimal discussion of the issue – difficult to reconcile with substantial Supreme Court precedent on the subject.
Wawrzynski v. H.J. Heinz Company (Fed. Cir. 2013) Download Wawrzynski v Heinz
Panel: Newman, Plager (author), Prost 
David Wawrzynski is an entrepreneur who owns his own food delivery company.  During the 1990's, he developed a method for dipping and wiping an article of food, such as a French fry, in a specially configured condiment package.  In 1997, the patent office granted him a patent, No. 5,676,990, for a "Method of Food Article Dipping and Wiping in a Condiment Container."  The sole drawing in that patent is below.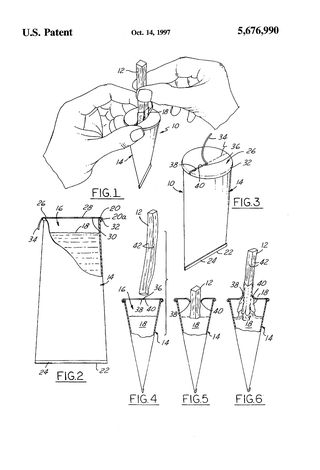 In 2008, Wawrzynski sent a letter to the Heinz Company presenting his condiment packaging ideas (including his "Little Dipper" concept) and soliciting a meeting.  He included promotional materials that depicted a condiment package similar to the container depicted in the '990 patent and stated that the features of the "Little Dipper" were subject to his patent.  Heinz invited Wawarzynski to meet with his representatives to present his product ideas, which he did.  At that meeting, Wawrzwynski contends that he shared the idea of creating a "dual function" product that permitted a customer to either dip a food article or squeeze out the condiment.  Following the meeting, Heinz indicated that it was not interested in Wawrzynski's product ideas and did not wish to receive additional information from him.
A few months later, Heinz released its new "DIP & SQUEEZE" packet.  In a surprising coincidence, my wife happened to bring a couple of these items home on Friday so I took the following picture: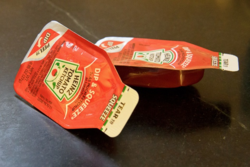 On October 5, 2010, Wawrzynski filed a lawsuit against Heinz in Michigan state court. (Heinz removed on the basis of diversity jurisdiction.)  Wawrzynski's amended complaint contains two legal claims: breach of an implied contract and unjust enrichment based on Heinz's alleged use of Wawrzynski's ideas for condiment packaging.  The general allegations also reference the '990 patent. 
The case was subsequently transferred to the Western District of Pennsylvania and Heinz filed an answer and counterclaim alleging that it did not infringe the Wawrzynksi patent and that the patent was invalid.  Wawrzynski answered the counterclaim stating, among other things, that "Mr. Wawrzynski avers that there is no case in controversy regarding the '990 Patent because he admits that Heinz is not infringing on it."  He also provided Heinz with a covenant not to sue on the '990 patent.
During the district court proceedings, Wawrzynski filed a motion to dismiss Heinz's counterclaim and Heinz filed a motion for summary judgment on the ground that Wawrzynksi's non-patent claims were preempted by federal patent law.  The district court denied Wawrtzynski's motion, concluding that "Wawrzynski's admission and covenant were "manufactured" and did not change the fact that Wawrzysnki's complaint made allegations based upon the '990 patent."  Slip Op. at 5, quoting district court.  The court also granted Heinz's motion for summary judgment.  Wawrzynski appealed the district court's rulings.
No Jurisdiction: Under the Federal Circuit's jurisdictional statute, 28 U.S.C. § 1295, if the case arises under the Federal patent laws, the court has jurisdiction; if the case is one purely of state law claims, not involving a patent issue, it does not.  Although both parties contended that the Federal Circuit had jurisdiction, the court concluded that it did not.  Wawrzynski argued that the post-AIA version of Section 1295 applied.  Under this version of Section 1295, the court has jurisdiction over appeals in actions "in which a party has asserted a compulsory counterclaim arising under any Act of Congress relating to patents." However, the newer version only applies to actions commenced on or after September 16, 2011 and this action commenced before that date.  Nor did the date of Heinz's counterclaim (September 28, 2011) count; the AIA speaks in terms of the date the action commences.
The Federal Circuit also rejected Heinz's jurisdictional argument.  Heinz argued that Wawrzynski's complaint did, in fact, assert a claim of patent infringement.  But this was not the case.  First, under the "well-pleaded complaint rule," the plaintiff is the master of the complaint and can "eschew[] claims based on federal law [and] choose to have the cause heard in state court."  Slip Op. at 10, quoting Caterpillar Inc. v. Williams, 482 U.S. 386, 398-99 (1987).  Here, Wawrzynski's complaint raised only two causes of action, both based on state law.  Although it referenced the patent, "[t]he complaint does not have a count for patent infringement or anything similar."  Slip Op. at 10.  Ultimately, the court concluded that the "sparse background discussion of the patent does not make a well-pleaded complaint for patent infringement." Slip Op. at 12.  Based on this, the court ordered the appeal transferred to the Third Circuit.
The Preemption Puzzle: Despite concluding that it lacked jurisdiction, the panel nevertheless went on to apparently rule on the issue of preemption, or at least make clear its opinon on the subject.  I find the following three paragraphs particularly puzzling.  The court seems to hold that there is no preemption in a highly summary fashion:
We note that some of the issues underlying our jurisdictional analyses also underlie the district court's summary judgment merits analyses. To fully assess the question of our jurisdiction, we necessarily have analyzed and decided certain of these issues.
For example, we have concluded that the relief requested in the complaint aligns with state law claims and not a claim for patent infringement. We also found support for Mr. Wawrzynski's contention that certain of the ideas and materials he allegedly provided to Heinz are not found in his patent. These conclusions, along with our overarching conclusion that the complaint does not present a well-pleaded patent law issue, undercut conclusions relied upon by the district court to support its grant of summary judgment of preemption. Accordingly, it appears that nothing in federal patent law now stands in the way of Mr. Wawrzynski pursuing his state law claims.
With regard to the district court's finding of non-infringement of the ′

990 patent

by Heinz's 'Dip & Squeeze®' packet, Mr. Wawrzynski's responsive pleadings contain both a concession that Heinz's product does not infringe and a covenant not to sue. Thus, it would appear that in any event there is no case or controversy remaining to support a subsequent judgment on the issue of infringement.
Slip Op. at 13 (emphasis added).  Notwithstanding the court's rather cursory dismissal, however, patent law preemption of state law claims involving ideas and other intangibles is a  complex and challenging analysis (as my unfair competition students have learned over the past two weeks).  The central Supreme Court precedent is well known: Sears v. Stiffel, Bonito Boats v. Thunder Craft Boats, Kewanee Oil v. Bicron, and the circuits have struggled with issues of preemption for decades.  While it is conceivable that some of Wawrzynski's claims are not preempted by patent law, it seems at least equally plausible that many of them are.  Given the complexity and importance of this issue, it is surprising that the panel did not choose to either let the Third Circuit address the issue or analyze the issue itself in meaingful detail if it believed it was necessary to satisfy the approach described in Gunn v. Minton (which the opinion does not mention).