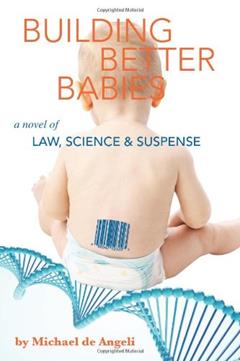 by Dennis Crouch

Michael de Angeli is a long time patent attorney with his own Rhode Island firm. However, his most recent venture is as an author of the new Sci-Fi Drama titled Building Better Babies: A novel of law, science, and suspense (2014). I am about half-way through the 450 page novel and am really enjoying it. Patently-O readers may relate well with Henry Hannah, the handsome patent attorney protagonist.
de Angeli offers the following summary:
Patent lawyer Hank Hannah is hired by Jean-Luc Rameau, CEO of World BioTech, to protect a process for building better babies. Sections of the DNA of athletes, scientists, musicians and beautiful people can be transplanted into the parents' genes, and hereditary disease eliminated. All goes well until the babies start getting sick. Chief inventor David Alexander develops a vitamin cocktail that can save them, and a disaster is averted. Then the US government learns of the development, and decides that it wants control of the technology. Rameau and Alexander are arrested. Only Hank Hannah has the keys to the jail. But can he save them?
Enjoy.