by Dennis Crouch
In Teashot v. Green Mountain Coffee, the Federal Circuit has affirmed the lower court determination that tea-filled K-Cups do not infringe T-Shot's Patent No. 5,895,672.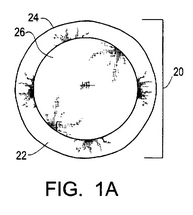 K-Cups originally included only disposable coffee pods for use in Keurig machines, but now also include tea-pods for quickly brewing tea.  T-shot's patent covers a disposable tea-pod, but the asserted claims require that the pod be a "sealed body . . . constructed of a water-permeable material which allows flow of a fluid through said sealed body to produce a tea extract from said tea composition."  The figures from the patent look like the disposable coffee-pods that you might find in a hotel room – essentially tea wrapped and sealed within a coffee filter.  One feature of the patent is that the pod include both tea leaves as well as some instant tea powder that allows for very quick brewing.
At first glance, K-Cups do not appear to be made of a water-permeable membrane but rather are constructed of a impermeable combination of plastic and metal foil.  The Keurig machines operate by first puncturing a hole in both the top and bottom of the K-Cup and then sending water through the holes as shown in the schematic below.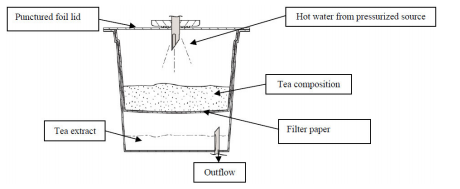 T-shot's infringement argument was that – once punctured – the K-cup also becomes water permeable. (Of course, the patentee couched this as a claim-construction issue in order to receive de novo review).  On appeal, the Federal Circuit rejected the argument, finding that the claim requires the pod to simultaneously be a "sealed body" and "water permeable" and that the hole-puncturing scheme does not fit within that requirement.
Doctrine of Equivalents: In a move that is seemingly increasingly common, the Colorado district court refused to allow the patentee to amend its infringement contentions following the claim construction decision in order to include allegations of infringement under the doctrine of equivalents.
The proposed doctrine of equivalents claim was not disclosed in the patentee's original or supplemental infringement contentions nor in response to any interrogatory.   As a discovery sanction under Fed. R. Civ. Pro. 37, the district court refused to allow the new infringement theory to be presented — writing "Plaintiff
waived its right to raise the doctrine of equivalents by failing to timely disclose it as an infringement theory."  On appeal, the Federal Circuit affirmed that holding.
[As a side-note, the doctrine of equivalents theory here might have been viable given that the patent was issued without amendment.]