By Jason Rantanen
The USPTO recently released the data on the number of patent applications filed in Fiscal Year 2015 via its Data Visualization Center (i.e.: the Dashboard) page.
Based on this data, the number of patent applications hasn't taken a nosedive.  Instead, applications have remained at the same level as the preceding year.  The number of UPR (Utility, Plant and Reissue) applications did drop by about 0.5% as compared with Fiscal Year 2014, but that's a very small change, especially when compared with the growth in UPR filings over the past several years.  In addition, when Requests for Continued Examination are broken out (the PTO includes RCEs in its numbers of UPR filings on the Dashboard spreadsheet), the number of applications actually rose by about 1%.
Figure 1 depicts the numbers of UPR applications filed per fiscal year, with and without RCEs.  (Additional note: these numbers do not distinguish between applications that do not claim the benefit of an earlier U.S. application and those that do, such as continuations and continuations in part.  Also, historically plant and reissue applications have made up a de minimus proportion of the UPR applications (about a thousand of each per year).)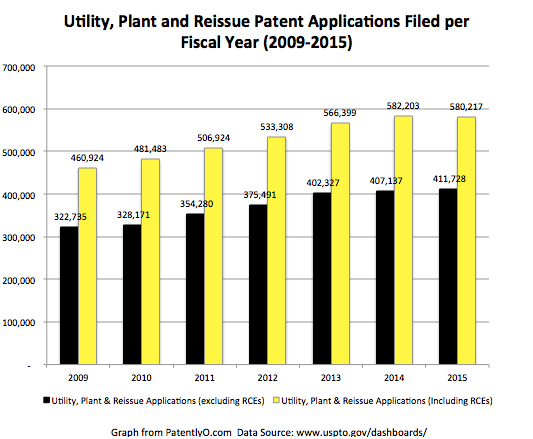 To check whether there might have been a sudden drop at the end of the year that affected these results, I also plotted the cumulative numbers of applications filed on a monthly basis for each fiscal year from 2009-2015. Fiscal year 2015 really doesn't look all that different from Fiscal Year 2014 when viewed on a monthly basis and there's no sudden unexpected dropoff at the end.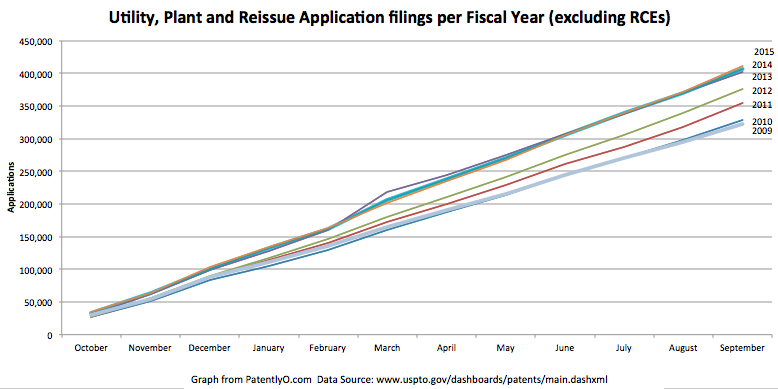 Finally, I graphed the numbers of design patent applications filed each fiscal year.  I was a bit surprised that design patent applications were essentially flat as compared to FY 2014, indicating that – so far at least – there hasn't been a huge surge in these applications.