The dispute between the University of Alabama, Paul Bryant Jr., and Houndstooth Mafia stems from the latter's unlicensed use of a houndstooth pattern and other 'marks' that relate to the University and former legendary coach Bear Bryant.
Prior to the September 2013 federal complaint, Alabama & Bryant Jr. (the heir) had previously attempted to oppose Houndstooth Mafia's trademark registration of the mark shown below. However, in a precedential opinion the TTAB sided with the Mafia – finding that the opposers' failed to show (a) "acquired distinctiveness in their alleged Houndstooth Pattern"; (b) likely confusion as to source or sponsorship; or (c) that the mark is disparaging. As such, the TTAB dismissed with prejudice.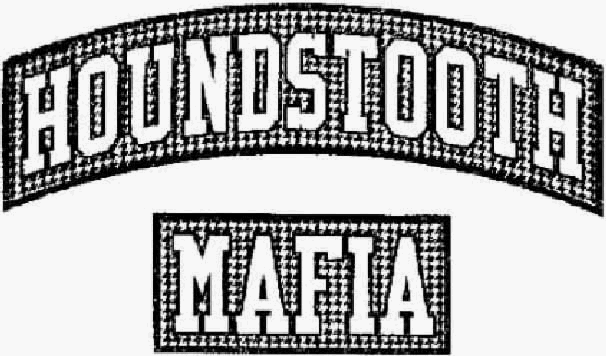 After losing at the board, the named plaintiffs filed the aforementioned trademark infringement and unfair competition lawsuit.
The parties eventually settled and, as part of the consent decree, the district court ordered vacatur of the TTAB decsion.  However, the TTAB refused take any action to vacate its prior decision, writing: "The Final Consent Judgment points to no legal error in our prior decision, and we have not been alerted to any aspect of the public interest that would be furthered by vacatur and would outweigh our initial determination of the precedential value of the prior decision."
Back in the district court, Alabama then asked for and received a new order from the district court judge — this time expressly ordering the USPTO to vacate its prior determination.  The court wrote: "In June 2015, the TTAB essentially (and inexplicably) treated the court's Order as a request, and issued a decision refusing to comply with this court's Order."
The court's February 23, 2016 order was quite specific:
Within fourteen (14) days of this order, the USPTO Trademark Trial and Appeal Board is ENJOINED TO AND SHALL VACATE its July 23, 2013 Opinion on Opposition No. 91187103, and otherwise take any further action necessary to effectuate this Order and the Court's May 27, 2014 Final Consent Judgment, including permitting the HOUNDSTOOTH MAFIA & Design Application (Serial No. 77/342,852) to be registered on the Principal Register with the University as its owner.
The USPTO has complied with the order.  In a March 3 order, the TTAB issued an order vacating its prior decision and ordering that the HOUNDSTOOTH MAFIA mark be registered (and that its ownership be changed to Univ of Alabama). An April 5, 2016 the mark was registered.
Meanwhile . . . The USPTO has filed its notice of appeal with the 11th Circuit court of appeals its brief will be due May 3, 2016.  The agency is likely to challenge the district court's power to order vacatur under U.S. Bancorp Mortgage Co. v. Bonner Mall Partnership, 513 U.S. 18 (1994).