by Dennis Crouch
The Federal Circuit's decision in Two-Way Media is in some amount of tension with the court's 2016 decision in Amdocs v. Openet Telecom.   In Amdocs, the court noted that the claims appeared problematic under Section 101 (abstract ideas), but that the architecture – as specifically described in the specification but more generically claimed – showed that the invention was actually a technological improvement.  In Two-Way Media, the court faced the same dilemma but arrived at the opposite conclusion — holding that although the specification described a technological improvement, the claims were written at too abstract a level to be patent eligible.
Note here that Judge Reyna dissented in Amdocs.  However, rather than accepting the Amdocs precedent, Reyna is now the author of Two-Way Media – a decision that does not cite Amdocs.  Wow.
Other cases in this intra-circuit-split include Smart Sys. Innovations, LLC v. Chicago Transit Auth.,(Fed. Cir. Oct. 18, 2017); Synopsys Inc. v. Mentor Graphics Corp., 839 F.3d 1138 (Fed. Cir. 2016); and Visual Memory LLC v. NVIDIA Corp., 867 F.3d 1253 (Fed. Cir. 2017).   The chart below shows these results with the invalidity opinion in blue, and validity opinion in orange.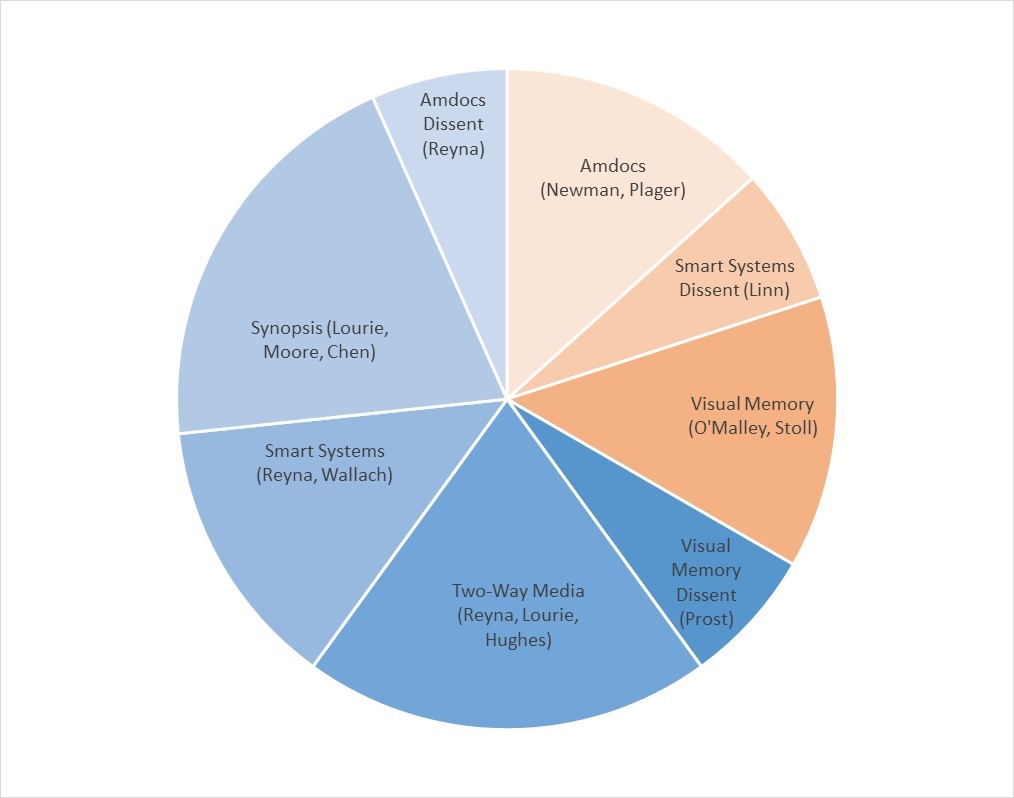 Now pending before the U.S. Supreme Court is Openet's petition for writ of certiorari asking the following question:
To be patent eligible, a patent must claim "the means or method of producing a certain result, or effect, and not [the] result or effect produced." Corning v. Burden, 56 U.S. 252, 267-68 (1854). This principle has driven this Court's patentable subject matter jurisprudence for over 150 years, including most recently the "search for an inventive concept" described in the second step of the Alice/Mayo framework. Alice Corp. Pty. Ltd. v. CLS Bank Int'l, 134 S. Ct. 2347, 2355 (2014) (quoting Mayo Collaborative Services v. Prometheus Laboratories, Inc., 566 U.S. 66, 72 (2012)). Because a patent's claims define the scope of the invention, this Court stated in both Alice and Mayo that this second step of the eligibility analysis turns on what is "in the claims." The question presented is:

Whether the Federal Circuit erred by looking beyond the claims to the patent specification to assess patent eligibility
In the pending case, petition-stage briefs are in and the court is scheduled for conference later this month.
I should note here that the patentee Amdocs disagrees with Openet's characterization of what happened.  Rather, the patentee argues that "The Federal Circuit's decision on patent eligibility thus rested not on material drawn willy-nilly from the specifications, but on the scope of the claims as construed in Amdocs I at Openet's urging."
Will the Supreme Court react to a Business Method Patent Held Valid?