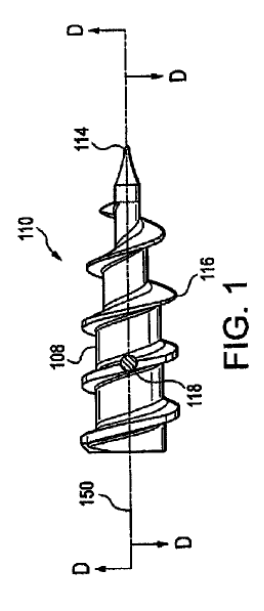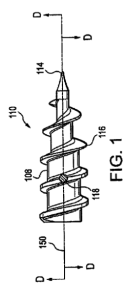 Arthrex v. Smith & Nephew (Fed. Cir. 2018) [Anthrex Decision].
The dispute in this case is about what should happen when a patentee disclaims its patent claims prior to an inter partes review institution decision.  The Arthrex patent at issue is U.S. Patent No. 8,821,541 which covers a suture anchor — similar to a dry-wall anchor, but sticks into flesh.
After Smith & Nephew filed its IPR petition Arthrex disclaimed the challenged claims.  PTO rules state that "No inter partes review will be instituted based on disclaimed claims." 37 C.F.R. § 42.107(e). And, following the rule, the PTAB (acting pre-institution on in the shoes of the PTO director) terminated the petition without instituting the IPR.
Adverse Judgment: Following the disclaimer, the Board also issued what it termed a "Judgment Granting [Patentee's] Request for Adverse Judgment Before Institution of Trial."  The adverse judgment here is important because it carries with it estoppel against the patentee from "taking action inconsistent with the adverse judgment, including obtaining in any patent . . . [a] claim that is not patentably distinct from a finally refused or canceled claim."  37 C.F.R. § 42.73(d)(3)(i).  Anthrex is has continuation applications pending with similar claims that would seemingly be impacted.
Request for Adverse Judgment. On appeal, Anthrex took issue with the Board's determination that it had "requested" an adverse judgment. Rather, in its preliminary response to the IPR, Anthrex particularly stated that it was not requesting an adverse judgment. On appeal though, the Federal Circuit sided with the PTO — giving effect to 37 C.F.R. § 42.73(b)'s statement that "disclaimer of the involved application or patent" will be "construed to be a request for adverse judgment."
The major difficulty I have with the decision here is that it intermingles pre- and post- institution language.  This is reflected in the rules adopted by the PTO, but not in the actual AIA that separately spells out authority and procedure for IPR institution decisions as compared with IPR trial.  Here, Anthrex appears to have not directly challenged the PTAB's authority to issue an adverse judgment pre-institution.
Adverse Judgment Affirmed.
= = = =
Note – in the case the court also discusses why it has jurisdiction over this particular appeal.
= = = =
The decision for the court was penned by Judge Dyk and apparently joined by Judge O'Malley.  Judge O'Malley also wrote a concurring opinion explaining:
I write separately to point out that I have doubts about whether the Director had the authority under 35 U.S.C. § 316 (or any other statutory provision) to issue that regulation [i.e., 37 C.F.R. § 42.73(b)] or whether, if so, the regulation was properly promulgated.
The opinion is only a concurring opinion because the patentee here did not raise a facial challenge to the regulation.
In addition to Judge O'Malley's concurring opinion, Judge Newman wrote in dissent – arguing that the regulation should be interpreted as only applying once an IPR is instituted.