Guest post by Colleen V. Chien, Associate Professor of Law at Santa Clara University School of Law. Thanks to the USPTO Office of the Chief Economist and Innography for sharing patent data.
Just over a week ago, the United States proposed tariffs on over 1,000 Chinese imports in response to various intellectual property grievances. China responded with a number of proposed counter-tariffs. One of the most notable, as well as unfortunate, aspects of China's proposed tariffs—which heavily target American soybeans and pork—is that harms to U.S. producers would apparently disproportionately fall on certain Midwestern states that had previously benefited from access to Chinese markets.
I argue in a new working paper focused on the often-overlooked question of how innovation is distributed among various settings that just as trade creates winners and losers, so too does patented innovation. Advances in the accessibility and quality of open patent data, largely made possible by the USPTO's Office of the Chief Economist, provide a way to explore distributional questions that have long been at the heart of the patent system.  Specifically, the data can give insight into the participation of small and independent innovators, the role of foreigners, and geographic and corporate concentration of patenting. It has also allowed recent discussions regarding who becomes an inventor and the extent to which innovation creates or destroys jobs.
As the paper documents, shifts in patented innovation over the last several decades have contributed to broader social and economic shifts away from manufacturing-based, domestic, and independent innovation, and towards digital, foreign, coastal, and corporate innovation – validating both optimistic accounts of immigration-driven, digital prosperity and pessimistic accounts of the shrinking role of domestic, manufacturing-based innovation. As the Figure[1] below shows, the shift in innovation towards urban and coastal locations also corresponds with, though is not necessarily caused by, the more liberal political attitudes of these areas. Also discussed in the paper are left and right wing "patent populism" – targeting both powerful IP "maximalists" and powerful IP "minimalists."
Fig. 1F: 2015 Patents per 10K Capita                  Fig. 1G: 2016 Presidential Election Results

| | | |
| --- | --- | --- |
| County Patent Density | % Trump | % Clinton |
| <3 patents | 66.1% | 39.9% |
| 3+ patents | 32.9% | 67.1% |
Data Sources: USPTO,[2] US Census,[3] Data.world (election data),[4]Author's Analysis, Distributions calculated based on covered population in counties
However, to those of us who participate in the patent system, perhaps what is most striking is the increasingly unequal distribution of new patents to the point where 53%  of patent grants in 2016 were issued to the top 1% of grantees (up from 38% in 1986). Industry effects are strong, with some 83% of 2016 "electrical engineering" patents[5] going to the top 10% (as compared to 61% of chemistry[6] patents), but cannot explain the long-term trend. As the paper also details, while patent inequality is at a historic high, the share of small and micro entity patenting also appears to be at its lowest point in recent decades, though, not for the reasons you might suspect. (You'll need to read the paper for the full story.)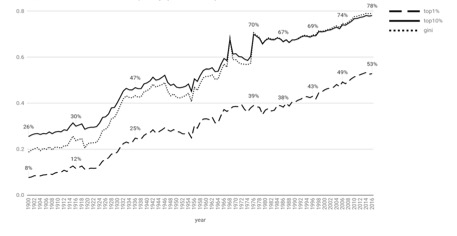 Data Sources: USPTO PatentsView, Innography
Some of implications of the data are discussed in the paper, which raises more questions than it answers. Whatever one takes from them, however, it is clear, at least in my mind, that there is much to be learned by looking at not just the amount of patented innovation, but at how it is distributed.
[1] Produced by the talented Santa Clara Law 3L student Jerome Ma.
[2] 2015 Patent Listing by US County (available at https://www.uspto.gov/web/offices/ac/ido/oeip/taf/reports_cbsa.htm)
[3] https://www.census.gov/data/datasets/2017/demo/popest/counties-total.html
[4] https://data.world/garyhoov/2016-pres-election-by-county
[5] A category defined by the scheme used by WIPO laid out by Shmoch, as including digital communications, computer technology, communications processes, telecommunications, and semiconductors.
[6] A category defined by the scheme used by WIPO laid out by Shmoch, as including pharmaceuticals, biotechnology, chemistry and environmental innovations.