Sirona Dental Systems GMBH v. Institut Strauman AG (Fed. Cir. 2018)
In its Final Written Decision, the PTAB partially invalidated Sirona Dental Systems U.S. Patent No. 6,319,006 (claims 1-8 obvious over two prior art references; claims 9-10 patentable). Following cross-appeals, the Federal Circuit the Federal Circuit found no error in these ultimate conclusions, but did vacate the decision based upon the Board's refusal to allow the patentee to amend its claims.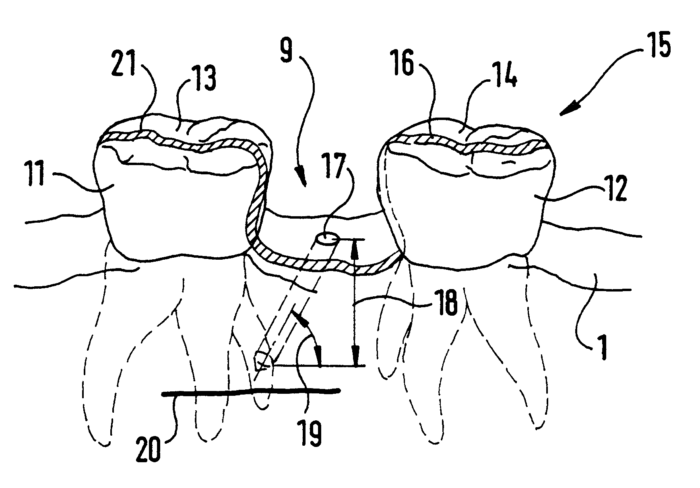 The '006 patent covers the use of x-rays and optical scans of teeth to determine an "optimal bore hole" location for a tooth implant.
Rather than simply requesting an amendment to the claims, Sirona filed a "contingent motion to amend" — essentially asking for two-simultaneous-trips through the whirly ball known as inter partes review.  The basic request: If the original claims are found invalid, please amend them to this narrower form.  The PTAB does allow these contingent motions, but did not allow it this particular PRE-Aqua decision.   In Aqua, the Federal Circuit held that the PTAB had been improperly requiring patentees to prove the patentability of their proposed claim amendments before allowing them to be amended. Rather, under Aqua, it is the petitioner who "bears the burden of proving that proposed amended claims are unpatentable."
Here, the court writes:
The final written decision, which issued prior to our en banc decision in Aqua Products, improperly placed the burden on Sirona to demonstrate that the proposed substitute claims were patentable. Thus, we must vacate the Board's denial of Sirona's contingent motion to amend and remand for the Board to reconsider in light of Aqua Products.
On remand, the PTAB will reconsider whether to allow the amendment and, if so, whether the amendment is sufficient to overcome the prior art.
New Grounds: The Federal Circuit also suggested that the Board consider "in light of recent precedent including SAS Institute, Inc. v. Iancu, 138 S. Ct. 1348 (2018), whether it may consider combinations of references not argued by the petitioner in opposing the motion to amend claims, and, if so, what procedures consistent with the
APA are required to do so."
Side note: The PTAB decision here is the one IPRO where then PTO Director Michelle K. Lee took-up her statutory role as a PTAB Judge.