In its pending Application No. 12/814,020, eBay is attempting to patent a list of listings ranked by "dwell time" — the "elapsed amount of time one or more users view a page describing the listing."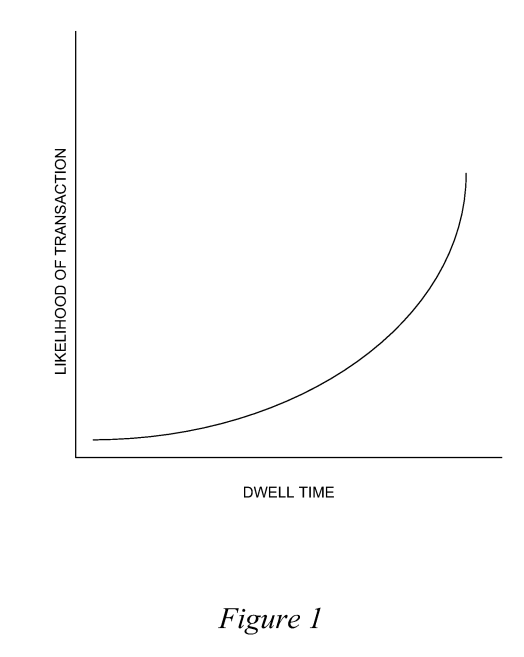 The examiner originally rejected the claims as improperly directed toward an abstract idea.  On appeal, however, the PTAB has reversed finding that "dwell time" is a uniquely "internet-centric challenge" and the claimed solution is  "is necessarily rooted in computer technology in order to overcome a problem specifically arising in the realm of computer networks." quoting DDR Holdings.  The PTAB particularly noted that "dwell time" is not merely "some business practice known from the pre-Internet world" that was claimed by simply saying "perform it on the Internet."
Claim 18 below is representative.
18. A method comprising:

identifying a plurality of listings stored in a … database as search results;

determining, using a processor, a respective dwell time associated with each [listing], the dwell time based on an elapsed amount of time one or more users view a page describing the listing, and the dwell time associated with a likelihood of a transaction occurring with respect to the listing; and

ranking the listings … based at least in part on the respective dwell time ….
PROBLEM — Although there is probably a way to salvage this invention on eligibility grounds, the PTAB is clearly wrong that "DWELL TIME" is an internet specific phenom.  Apparently, none of these PTAB judges have worked in retail sales.
= = = =
I'll note here that the chart above is described as follows: "FIG. 1 is a graph of a likelihood of a transaction occurring based on dwell time at a 'view item' page."  This chart appears fairly problematic in this case if – as I suspect – the chart is actually a prophetic example – even though not identified as such.  Not a huge deal – except that the entire patent turns on the function of "dwell time."  If I were prosecuting this patent, I would make sure the PTO is made aware of the source of data (or absence thereof) for forming this figure).