Stephen Yelderman is a Professor of Law at the University of Notre Dame Law School.
Continuing our study of prior art in the district court, in this post we'll take a closer look at printed publications. As I discussed in my original post, around 13% of anticipation invalidations and 34% of obviousness invalidations rely on art in this category. (The numbers may be a touch higher than that, as a result of invalidations for which we could not determine the prior art supporting the court's conclusion). For more background on this project, you can find the full paper here.
The potential sweep of this prior art category is breathtaking. By the terms of the statute—both before and after the America Invents Act—a printed publication found anywhere in the world can qualify as prior art. Moreover, under Federal Circuit precedent, this category includes a number of things that would seem to stretch the colloquial meaning of "publication." For example, a single copy of a doctoral thesis stored in a university library, a drawing available only by travelling to another country's patent office, and a posterboard displayed for several days at a conference have all been held to constitute "printed publications." In dicta, the Federal Circuit has even suggested that a transient display of slides, or a billboard (!?) could, on certain facts, count as a printed publication.
When I teach patent law, our discussion of the printed publications category tends to dwell on these extreme possibilities. But how often do these non-traditional publications actually invalidate patents in practice?
To get a handle on this question, we further classified printed publication prior art into several sub-categories: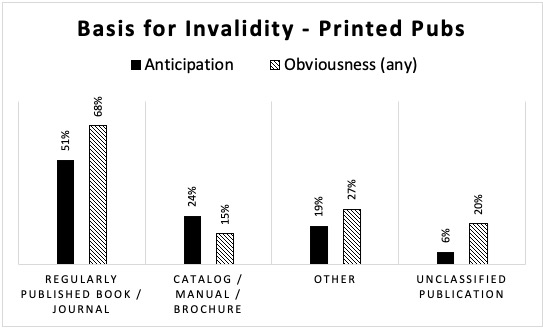 This chart illustrates the percentage of invalidations relying on printed publications in each sub-category, as a share of invalidations relying on printed publications at all. Encouragingly, the majority of invalidations based on printed publications relied on traditional reference publications. Just over half of anticipating publications were categorized as regularly published books and journals. Among obviousness invalidations citing a printed publication, 68% cited at least one regularly published book or journal. (The percentages of obviousness invalidations sum to more than 100% because of invalidations citing publications in multiple sub-categories.)  Though some of these regularly published books and journals may have come from obscure outlets, they are at least the kind of documents that a library might collect and an interested researcher might access.
The next sub-category—catalogs, manuals, and brochures—consists of documents distributed to teach the public about the features or availability of a product. This category is conceptually interesting for two reasons. First, though catalogs and manuals are typically mass-produced and widely disseminated, they are not usually collected in research libraries. By their nature, many publications in this category are intended to be transient. These characteristics suggest that publications in this sub-category would likely be much more difficult for a hypothetical prior art searcher to find than a regularly published book or journal.
The second reason that the catalog, manuals, and brochures category is conceptually interesting is that these documents are often evidence of a different kind of prior art entirely—that is, prior uses and sales. In fact, in a few cases we found it unclear whether a product manual was coming in as a distinct prior art reference, or as evidence about the features present in a prior sale. The fact that district courts sometimes rely on publications in this category suggests that activity prior art may be even more important than our top-level analysis suggested.
That said, catalog, manuals, and brochures were fairly insignificant in the larger scheme of things. About a quarter of anticipating printed publications fell into this sub-category. But since only 13% of anticipation events cited a printed publication, that means only about 3% of anticipation events overall relied on a catalog, manual, or brochure. Likewise, though 15% of obviousness events citing a printed publication relied on a catalog, manual, or brochure, that comes out to only about 5% of obviousness events overall. So whether one conceives of these cases as invalidity by prior sale or invalidity by printed publication, the high-level picture of prior art does not change very much.
The next sub-category—"other"—includes all identifiable printed publications not falling into the other two sub-categories. For example, we found patents that had been invalidated by poster board displays, industry whitepapers, proposals circulated at working group meetings of technical standards bodies, doctoral dissertations, and postings on Internet discussion forums. (We did not, for the record, find any cases of patents invalidated by billboards.) The good news was that reliance on potentially obscure or idiosyncratic documents like these appeared to be rare. About 19% of anticipating printed publications fell into this sub-category, amounting to just about 2% of anticipation events overall. A little more than a quarter of obviousness invalidations citing a printed publication included one in the "other" category. These constituted about 9% of obviousness invalidations overall.
There were, however, some publications that defied further classification—usually because sealed court records prevented us from finding more than a shorthand reference to the relevant document. For anticipation, this was rare enough that it could not change our results very much. But this happened frequently enough in cases of obviousness that we must acknowledge some potential uncertainty. If all of the unidentifiable publications turned out to be non-traditional publications, it's possible that up to 16% of obviousness invalidations may have relied on a publication in the "other" category.
Finally, it's important to remember that this data only tells us how district courts invalidate patents—not how many or why patents might be invalid in general. It is possible that cases involving non-traditional publications are more likely to settle than other cases, or, for that matter, that they're less likely to settle. There is a significant possibility of selection effects here, which prevents us from making any inferences about patent quality overall. So, in the end, I'll have to keep teaching those cases about slide presentations and unpublished college theses, even if "publications" like those only rarely invalidate patents in court.