by Dennis Crouch
Omega Patents LLC v. CalAmp Corp. (Fed. Cir. 2019)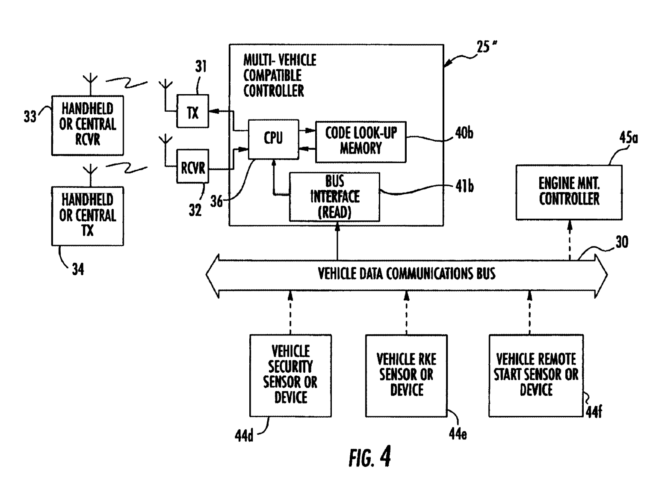 Omega's patents cover remote control and monitoring systems for vehicles.  The defendant, CalAmp, helps companies and governments monitor their vehicles (location and status, such as battery health and vehicle speed).  In the infringement trial, a Florida jury sided with the patentee – finding the patents willfully infringed and not invalid.  The district court then trebled the damages and awarded attorney fees — for a tidy sum of $15 million (with an ongoing royalty of $13 per unit).
On appeal, the Federal Circuit has made several interesting rulings. In a later post, I'll return to the validity issue.
This post will focus on infringement: Some of Omega's claims require both "a transmitter and a receiver for receiving signals from said transmitter." (33 and 31 in the figure above).  CalAmp's accused device has the transmitter, but the accompanied receiver is a cell-phone tower.  Since CalAmp does not supply cell towers, the appellate panel found CalAmp cannot be a direct infringer under the All Elements Rule.
Making and Selling vs Using: Note here that we're talking about system claims, and the patentee particularly accused CalAmp of "making and selling" the invention.  As explained below, infringement allegations for "using" an invention can be treated more expansively under the beneficial control doctrine.
The patentee had also alleged CalAmp's indirect infringement — that CalAmp should be liable for its customers' infringing use of the system. On appeal, the court agreed that there was sufficient evidence to find that the customers had "used" the claimed system:
"[T]o use a system for purposes of infringement, a party must put the invention into service, i.e., control the system as a whole and obtain benefit from it." Centillion Data Sys., LLC v. Qwest Commc'ns  Int'l, 631 F.3d 1279 (Fed. Cir. 2011). "[A] person must control (even if indirectly) and benefit from each claimed component." Intellectual Ventures I v. Motorola Mobility, 870 F.3d 1320 (Fed. Cir. 2017). Here, there was evidence from which the jury could infer that customers controlled and used the system and received the required benefits.
In other words, the cell-phone tower was being "used" by the customers as part of the system, and therefore it didn't matter that they were owned by and more generally controlled by a separate entity.
Despite finding potential liability here, the court substantially vacated the infringement verdict on other grounds (informing the jury of the proper claim construction / proof of knowledge for inducement / etc).
At the end of the appeal, only one claim was left as valid/infringed.  The Federal Circuit determined that the patentee had not provided sufficient evidence at trial to support the full damage award based upon that lone claim. Thus, the new trial will also be needed on damages.