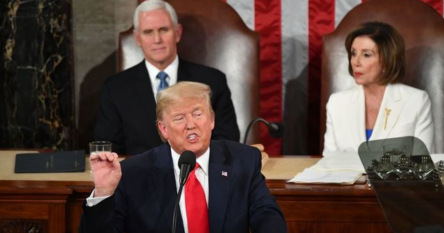 Trump:
I also promised our citizens that I would impose tariffs to confront China's massive theft of American jobs. Our strategy worked. Days ago, we signed the groundbreaking new agreement with China that will defend our workers, protect our intellectual property, bring billions of dollars into our treasury, and open vast new markets for products made and grown right here in the United States of America. For decades, China has taken advantage of the United States, now we have changed that but, at the same time, we have perhaps the best relationship we have ever had with China, including with President Xi. They respect what we have done because, quite frankly, they could never believe what they were able to get away with year after year, decade after decade, without someone in our country stepping up and saying: Enough. Now, we want to rebuild our country, and that is what we are doing.
Read the US China Agreement (Phase 1) here: Economic_And_Trade_Agreement_Between_The_United_States_And_China.
With regard to the New NAFTA, IPO has suggested that it does not live-up to the hype with regard to pharmaceutical patent enforcement.  From IPO:
President TRUMP signed the U.S.-Mexico-Canada Agreement (USMCA), the North America trade pact that will replace NAFTA. The White House states that the USMCA "contains new protections for American intellectual property, ensuring strong, effective protection for American innovators and creators." IPO has expressed disappointment with the agreement and said that "[i]n the future, IPO hopes to work with the Administration and Congress to create a fair and level playing field with our trading partners and establish appropriate safeguards for American innovators."
IPO's basic problem with new NAFTA is its lack of provisions focusing on protections for data submitted to regulatory authorities (especially for biologics).