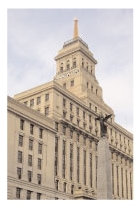 Sim & McBurney, Patent and Trade-mark Agents and, Sim, Lowman, Ashton & McKay LLP, Barristers and Solicitors, are one of Canada's premier intellectual property boutique practices. The Firms combine an extensive international patent and trade-mark agency practice with international and domestic commercial litigation in all aspects of intellectual property, professional errors and omissions, and disputes involving the commercialization of technology.
Sim & McBurney is a partnership of patent and trade-mark agents entitled to file and prosecute patent, trade-mark, industrial design, integrated circuit and copyright applications in Canada and the United States of America, with connections throughout the world to enable clients to efficiently file and coordinate applications on a global basis. Our clients range from companies to universities, hospitals institutes; from the individual inventor to multinational corporations.
Sim & McBurney is seeking:
Qualified Patent Agents holding a PhD in Chemistry or a Biological Science to join our Advanced Sciences Group;
Qualified Patent Agents specializing in the Mechanical, Electrical/Electronics and Software fields; and
A Patent Agent Trainee with 1-3 years experience and a degree in Electrical Engineering, Engineering Physics or Applied Mathematics.
The successful applicants will become part of a very collegial practice in our flexible boutique firms with a sensible workload and a team approach, well supported by experienced agents and clerical staff. Please send your resume in confidence to Lola Bartoszewicz at bartoszewicz@sim-mcburney.com.
Employer Type: Law Firm Job
Location: Toronto, Ontario, Canada