Gifford, Krass, Anderson, Sprinkle & Citkowski, P.C.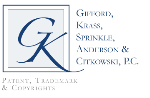 is seeking a partner for its Ann Arbor, MI office. Ideal candidates are mature, experienced patent attorneys, with a patent prosecution or mixed IP practice, looking for a low-key, positive atmosphere. Other desirable qualities include a sense of humor and interests in walking/biking to work, University culture and snow. Bring your portable book and technical expertise in any area.
Gifford, Krass, Anderson, Sprinkle & Citkowski, P.C has provided clients all over the world with high-quality, effective and efficient intellectual property legal services. Our firm has an atypical structure purposely organized to avoid a pyramidal hierarchy, with 15 shareholders, a few associates and a dedicated professional staff. Gifford Krass strongly advocates nondiscriminatory practices in hiring and promotion with regard to gender, race, disability, nationality, marital status, etc.
Contact:
Apply by contacting Julie Staple at jstaple@patlaw.com.
Additional Info:
Employer Type: Law Firm
Job Location: Ann Arbor, Michigan