Morris & Kamlay LLP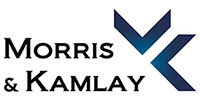 is an IP specialty firm seeking registered patent attorneys. An ideal candidate has a technology/science background and is local to the Washington D.C. area. We are an innovative law firm and candidates should be comfortable working in a highly interactive and collaborative environment. To learn more about our firm, please see our website at www.morriskamlay.com.
Contact:
Apply by emailing the firm at: careers@morriskamlay.com.
Additional Info:
Employer Type: Law Firm
Job Location: Washington, D.C.