Bacon & Thomas, PLLC,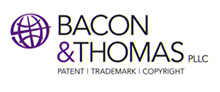 a well established intellectual property law firm located in Alexandria, Virginia, currently seeks candidates in the electro-mechanical disciplines (or similar) for its patent preparation and prosecution practice. Candidates would desirably have 1-3 years of experience as a patent examiner, agent or attorney, and have a technical background in mechanical or electrical engineering or similar. Registration before the USPTO and state bar admission are required.
Candidates should have excellent writing and communication skills, and be capable of independent and creative work. We would be willing to train a highly motivated candidate with an outstanding technical background and work experience.
The firm offers competitive salary and benefits.
Contact:
Please send cover letter and resume via e-mail to hr2@baconthomas.com.
Additional Info:
Employer Type: Law Firm
Job Location: Alexandria, Virginia