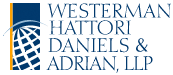 Westerman, Hattori, Daniels & Adrian, LLP, a collegial, growing 25 attorney international IP boutique seeks an electrical attorney/agent with 1 to 3 years of experience for our Washington, DC office. Must have an electrical engineering degree and must be registered to practice before the USPTO. Preference given to candidates with prior industry experience and/or second language capability.
Contact:
Apply by emailing the firm at: Employment@WHDA.com.
Additional Info:
Employer Type: Law Firm
Job Location: Washington, D.C.