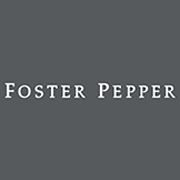 Foster Pepper is seeking an Intellectual Property Litigation Associate with a minimum of two years of experience to join our growing team of professionals in the Seattle office. Qualified applicants will have training and/or education in trademark and patent laws and experience in those areas in federal courts or tribunals in the United States.
The successful candidate will have excellent written and verbal communication skills, references, academic credentials and long-standing, demonstrated enthusiasm for intellectual property litigation. Candidates interested in relocating from other areas of the country are welcome. Washington State Bar membership or eligibility for reciprocal admission to Washington is a plus.
Foster Pepper PLLC is an Equal Opportunity Employer and does not discriminate on the basis of race, color, creed, national origin, ancestry, religion, age, citizenship, sex, marital status, military or veteran status, disability, sexual orientation (heterosexuality, homosexuality, bisexuality or gender expression or identity), political ideology, genetic information, or any other basis prohibited by federal, state or local law.
Contact
To apply, please visit this website: https://lawcruit.micronapps.com/sup/lc_supp_app_frm.aspx?lawfirm=127&id=0.
Additional Info
Employer Type: Law Firm
Job Location: Seattle, Washington