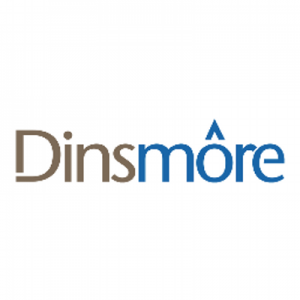 DINSMORE & SHOHL LLP, a prominent national law firm with an IP Department of over 90 attorneys among its 650 attorneys nationwide, is seeking an Intellectual Property Associate or Patent Agent in any of its IP offices. This position requires a minimum of two years of patent prosecution experience and at least a BS in chemistry, biochemistry, or related degree. Admission to a state bar, and USPTO registration is required for the Associate opening. The Patent Agent position requires USPTO registration. Graduate degree and/or industry experience preferred. Experience with pharmaceutical patent prosecution is a plus. Successful candidates will have strong academic credentials, excellent research, writing, analytical, and communication skills; and will enjoy a collegial atmosphere with an emphasis on training, significant client contact, and a wide range of work, including patent preparation and prosecution, portfolio management, strategic analysis, opinion drafting, and post-grant proceedings.

Dinsmore's IP Department includes a group of 90+ intellectual property attorneys in Cincinnati, Cleveland, Dayton, Ann Arbor, Detroit, Atlanta, Chicago, Charleston, Denver, Groton, Lexington, Louisville, Pittsburgh, San Diego, and Washington, D.C. Please visit our website at www.dinsmorecareers.com to view all Intellectual Property positions available.
*NOTE* – Dinsmore is not utilizing search agencies to fill this position.
Contact
Please apply in confidence by submitting your cover letter, resume, and law school, graduate or undergraduate transcripts to Jennifer Stark, Director of Recruiting and Legal Personnel, Dinsmore & Shohl LLP, 255 East Fifth Street, Suite 1900, Cincinnati, Ohio 45202, or to dinsmore.legalrecruiting@dinsmore.com.
Additional Info
Employer Type: Law Firm
Job Location: Washington, D.C.