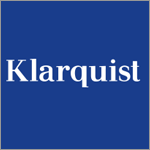 Klarquist Sparkman, LLP, a mid-size law firm focusing exclusively on Intellectual Property law, is actively seeking lateral patent prosecution associates or patent agents with electrical engineering, computer science, or physics degrees for its office located in Portland, Oregon. Candidates should have excellent academic credentials (top 33% of class preferred, top 10% strongly preferred) and preferably at least 1-4 years of experience prosecuting patent applications for electronics or computer software. Excellent writing, interpersonal, and communication skills are required. Relevant industry experience or an advanced degree is preferred.
Located in one of the country's most beautiful and livable cities, Klarquist Sparkman offers its professionals a challenging and rewarding career representing top-tier clients. The firm's compensation and benefits package is highly competitive with other top-level firms in the Pacific Northwest. To learn more about the firm please visit our website at www.klarquist.com.
Contact
Interested candidates should apply through our website with a cover letter, resume, transcripts (undergraduate and graduate (if applicable)) and writing sample.
Additional Info
Employer Type: Law Firm
Job Location: Portland, Oregon