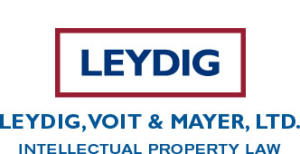 Leydig, Voit & Mayer is seeking a junior associate (with 1-3 years of experience) in patent prosecution to join its Chicago, IL, Boulder, CO, Walnut Creek, CA, or Washington, D.C. office.
Successful candidates will be a U.S. Attorney registered to practice in at least one state and before the U.S. Patent and Trademark Office. Candidates should also have a demonstrated track record of academic achievement, excellent interpersonal skills, and an engineering degree (electrical or computer engineering preferred).
As an associate at Leydig, Voit & Mayer, you will experience a collegial and supportive environment in which your technical knowledge is challenged and your legal skills improved. Some of the activities in which you may be involved are: analysis and preparation of replies to office actions of the US patent office or foreign agencies; invention disclosure meetings with our clients, and preparation of new patent applications; preparation and prosecution of design applications; study of patents and prosecution history files in support of opinions of non-infringement or invalidity; technology licensing agreements and related transactions; and support of litigation, administrative reviews, petitions and appeals.
Leydig, Voit, and Mayer is a U.S. law firm, based in Chicago, Illinois. The firm has been at the forefront of intellectual property law for more than 100 years and enjoys an international reputation for excellence in all areas of intellectual property practice, including holding a Tier 1 ranking in Patent Law from U.S. News and World Report. The firm is committed to mentoring and associate development, and offers an open-door environment in which you can seek assistance from anyone in the firm and benefit from the experience of others. Associate compensation begins at $160,000 and is adjusted based on experience and qualifications.
Leydig, Voit & Mayer is an Equal Opportunity Employer. All qualified applicants will receive consideration for employment without regard to race, color, religion, sex, or national origin.
Contact
A complete submission is sent by email to lawcareers@leydig.com and includes: cover letter indicating why you are interested in the position; resume; writing sample(s), preferably relevant to patents (e.g., office action responses, appeal briefs, etc.); and uncertified copies of undergraduate and law school transcripts. Qualified applicants must be certified to practice law.
Additional Info
Employer Type: Law Firm
Job Location: Chicago, Illinois; Boulder, Colorado; San Francisco, California (Area); Washington, D.C.