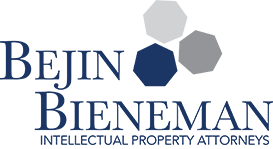 Bejin Bieneman, PLC, is seeking a patent associate or registered patent agent with at least two years' experience to immediately join the firm. You will prepare and prosecute patent applications in electronics, software, controls, electro-mechanical, and/or the mechanical arts, and may be asked to assist in intellectual property transactions, litigation, and opinion work.
Law school graduates must be admitted to a state bar in addition to having a USPTO registration. A degree in electrical engineering, computer engineering, or mechanical engineering is required, as is experience drafting patent applications for electrical or computer software inventions.
Bejin Bieneman is a growing and dynamic boutique full-service intellectual property law firm with an international practice based in Southfield, Michigan. We are an equal opportunity employer. Reimbursement for relocation expenses is not available. No recruiters, please.
Contact
Please send a resume, transcripts, writing samples, and cover letter to: info@b2iplaw.com.
Additional Info
Employer Type: Law Firm
Job Location: Southfield, Michigan