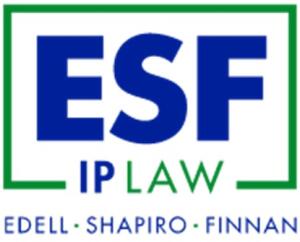 Edell, Shapiro, & Finnan is an intellectual property law firm located in the Washington, DC metropolitan area. We specialize in all areas of intellectual property law with particular emphasis in patent and trademark law. The success of our firm is attributed to our talented and dedicated professionals—attorneys, agents, technical specialists, and staff—who work closely together each day to achieve the objectives of our clients.
We are interested in highly-qualified candidates who wish to make a move to an environment valuing teamwork, respect, and collegiality, and that focuses on providing high quality legal services in a cost-effective manner. The firm is committed to the growth and development of its employees in an environment that fosters creativity and camaraderie.
The firm is seeking a patent attorney or patent agent with a background in electrical engineering or computer science.
Responsibilities:
Draft patent applications for U.S.-based and some non-U.S.-based companies.
Meet in-person or virtually with inventors, discuss the technology, and draft patent applications. Understand a wide range of technologies, or be able to quickly get up to speed on technologies.
Prosecute patent applications before the USPTO, including conducting examiner interviews, filing responses, appeals, etc.
Instruct non-U.S.-based law firms in the prosecution of patent applications in various countries outside the U.S.
Conduct patentability, infringement/clearance and validity studies, and related client counseling and opinion rendering.
Participate in IPR proceedings at USPTO.
Communicate with outside counsel in connection with all activities mentioned above.
Work in a wide range of technologies including wired and wireless networks and devices, wireless communication protocol technologies, media communication systems, network security, optical networks and devices, as well as medical electronic devices, and database systems.
Qualifications:
A successful applicant must possess:
At least 2 years of substantial patent application drafting experience, particularly in the technology areas listed above;
Registration as a U.S. patent attorney and knowledge of U.S. patent practice and procedures;
J.D. degree from an accredited law school and a license to practice in at least one U.S. state (unless applying as an agent);
Excellent academic credentials;
Strong writing, communication, organizational and analytical skills; and
Undergraduate focus areas in electrical engineering, physics or computer science.
Apply via email to:
Please include a resume, cover letter, writing sample, and transcripts with your submission.
Additional Info
Employer Type: Law Firm
Job Location: Gaithersburg, MD