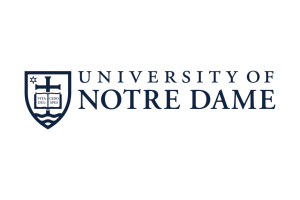 The University of Notre Dame is accepting applications for a Intellectual Property Manager.
Applications will be accepted until 4/2/2023.
Standing for Innovation, De-Risking and Enterprise Acceleration, the IDEA Center is the fundamental resource for all commercialization and entrepreneurial activities at the University of Notre Dame. It provides the necessary space, services and expertise for idea development, commercialization, business formation, prototyping, entrepreneurial education and student entrepreneurial efforts. It is designed to bring the best Notre Dame faculty, staff, and student ideas and innovations to market. The IDEA Center is looking for an Intellectual Property Manager who will be responsible for the IP portfolio for all of Notre Dame Inventions as part of the commercialization team at the IDEA Center.
This position will manage the intellectual property (IP) portfolio for all of Notre Dame Inventions as part of the commercialization team. This position is responsible for the IP management of all University Owned technologies including all electrical, mechanical, civil, aerospace, biomolecular, physical, chemical, pharmaceutical, and software inventions. This position will develop and implement intellectual property strategies and will decide whether or not the University will commercialize a technology. This person is responsible for maintaining the Univ. IP budget. and yearly planning of budgets, forecasting out several years. This person will analyze all invention disclosure forms and meet with inventors to tease out what the novel invention is. Working with outside law firms, this person will inform the attorneys what the novel invention is and direct attorneys on how to proceed with prior art searches and patent prosecution, touching approximately 400 different applications or patents per year. This person will be responsible for implementing an IP strategy for ~60-90 technologies per year. This person will work directly with outside attorneys to direct their work and set pricing.
Must be able to work independently, possess a keen ability to be decisive, must possess high aptitude for meeting deadlines, be exceptionally detail oriented, have exceptional organizational skills, take into consideration the whole picture while analyzing the details, and be able to quickly and effectively break down large amounts of information to identify the crucial information related to patentability.
Essential duties include:
Review and approve the invention disclosure forms. Analyze data and determine what is the true innovation with market potential. Assist Inventors with curating data and description needed to constitute an "Inventor disclosure form"
Perform prior art searches and/or assess prior art search results for all technologies. Make patentability decisions and present those decisions to the commercialization team and the inventors. Stay up to date on USPTO procedures, SCOTUS decisions, and other decisions impacting patentability.
Coordinate with law firms to develop responses to office action rejections. Assess all ISRs and written opinions. Make decisions on all filings such as nationalizations, continuations, CIPs, and divisionals. Review all application drafts and claims to ensure they match the innovation, market potential, and direction of startup companies.
File provisional patent applications. Track and upload all data, information, and applications related to the IP portfolio into IP database. Assist with assignments and declarations. Assist with inter-institutional agreements. Ensure that all annuities and maintenance fees are paid on time by inputting all necessary data into CPI, approving or denying all payments on time.
Work with commercialization team to assess market potential of product. Maintain that all decisions made are not in violation of sponsored research agreements, interinstitutional agreements, or license agreements. Work with 3rd parties to report co-owned IP and determine which party will lead commercialization efforts, and report all IP updates to co-owners and licensees. Work with Operations to approve all legal invoices. Make all budget decisions.
All qualified applicants will receive consideration for employment without regard to race, religion, sex, sexual orientation, gender identity, national origin, citizenship, disability or protected veteran status.
Minimum Qualifications:
Either engineering degree, computer science degree, chemistry degree, biology degree, or related degree.
Preferred Qualifications:
Advanced degree preferred. Patent Agent or 4+ years experience managing an IP Portfolio preferred.
ABOUT NOTRE DAME:
The University of Notre Dame, founded in 1842 by Rev. Edward F. Sorin, C.S.C., of the Congregation of Holy Cross, is an independent, national Catholic university located in Notre Dame, Ind. For the fifth consecutive year, the University of Notre Dame has received Honor Roll distinctions as one of the top 10 higher education workplaces in the country in the Chronicle of Higher Education's annual "Great Colleges to Work For" survey...and we are proud of it!
This appointment is contingent upon the successful completion of a background check. Applicants will be asked to identify all felony convictions and/or pending felony charges. Felony convictions do not automatically bar an individual from employment. Each case will be examined separately to determine the appropriateness of employment in the particular position. Failure to be forthcoming or dishonesty with respect to felony disclosures can result in the disqualification of a candidate. The full procedure can be viewed at https://facultyhandbook.nd.edu/?id=link-73597.
Equal Opportunity Employment Statement:
The University of Notre Dame seeks to attract, develop, and retain the highest quality faculty, staff and administration. The University is an Equal Opportunity Employer, and is committed to building a culturally diverse workplace. We strongly encourage applications from female and minority candidates and those candidates attracted to a university with a Catholic identity. Moreover, Notre Dame prohibits discrimination against veterans or disabled qualified individuals, and requires affirmative action by covered contractors to employ and advance veterans and qualified individuals with disabilities in compliance with 41 CFR 60-741.5(a) and 41 CFR 60-300.5(a).
Please apply online at http://ND.jobs to Job # https://apptrkr.com/4016708. For additional information about working at the University of Notre Dame and various benefits available to employees, please visit http://hr.nd.edu/why-nd. The University of Notre Dame supports the needs of dual career couples and has a Dual Career Assistance Program in place to assist relocating spouses and significant others with their job search.
Additional Info
Employer Type: Law Firm
Job Location: Notre Dame, IN