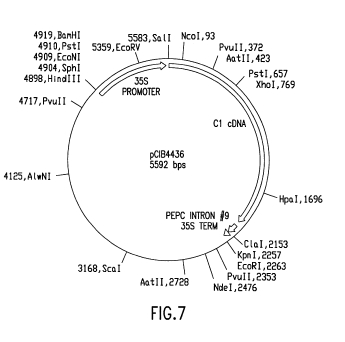 Syngenta v. Monsanto and Dow AgroSciences (D. Del. 2004) (J. Robinson).
Bt-corn is a genetically modified variety of corn that is resistant to the European Corn Borer, an insect that causes billions of dollars of damage to the U.S. corn crop each year. Bt corn hybrids produce an insecticidal protein derived from the bacterium Bacillus thuringiensis, commonly called Bt. The variety has been accepted by U.S. farmers and now represents around a quarter of the corn market. Syngenta seeds holds several patents on producing Bt-corn (transgenic maize). (For example, U.S. patent No. 6,403,865). Syngenta sued the major seed dealers for infringement of these patents. The defendants included Dow AgroSciences, Mycogen Seeds, Monsanto, Pioneer Hi-Bred and DeKalb Genetics Corporation.
According to a report from an attorney involved with the case, Pioneer Hi-Bred settled on the eve of trial, leaving Dow AgroSciences and Mycogen Seeds, Monsanto and DeKalb as the remaining defendants. Because of several pre-trial rulings, Syngenta Seeds came to trial with three patents, two of which had been found to be valid on summary judgment, and with the Defendants' key piece of prior art excluded. Just prior to the commencement of trial, however, Judge Susan Robinson reversed her grant of summary judgment on validity, and reinstated the Defendants' key prior art reference.
On the last day of trial Delaware District Court Judge Robinson held two patents not infringed as a matter of law, leaving one patent for the jury to decide. After two days of deliberations, the jury invalidated all claims of the one remaining patent "because the subject matter of the patent was not actually invented by Syngenta." — Seemingly a complete victory for the defendants. Additionally, the jury found the patent invalid due to obviousness.
Syngenta has vowed to appeal the decision to the Federal Circuit.
Links: