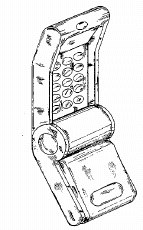 Colida v. Sharp Electronics and Audiovox (Fed. Cir. March 9, 2005; NONPRECEDENTIAL).
Tony Colida has brought his patent infringement arguments to the federal circuit on several occasions. (Background reading). In 2004, Colida lost patent infringement cases against Sanyo, Kyocera, and Matsushita. In each case, the CAFC affirmed the lower court ruling that the accused products did not infringe Colida's design patents.
In the most recent case, the CAFC again affirmed — finding that the district court did not err in granting summary judgment of noninfringement.
In Gorham v. White (1871), the Supreme Court announced the test for design patent infringement.
[I]f, in the eye of an ordinary observer, giving such attention as a purchaser usually gives, two designs are substantially the same, if the resemblance is such as to deceive such an observer, inducing him to purchase one supposing it to be the other, the first one patented is infringed by the other.
Following that rule, the federal circuit compared the accused phone with the design patent and found that the differences were sufficient for a finding of noninfringement on summary judgment.
In addition, the federal circuit found Colida's case to be frivolous:
Colida, in this case, continues his pattern of repeatedly filing meritless infringement complaints and pursuing appeals when the accused designs bear no realistic similarity to his design patents. Such conduct unnecessarily wastes the limited resources of the court. The differences between the [] patents and the [accused] handset are so obvious and pronounced that Colida's allegation that the [accused] handset infringes his [] patents and that the district court erred in granting summary judgment is "beyond the reasonable contemplation of fair-minded people." Thus, we hold that the appeal is frivolous.