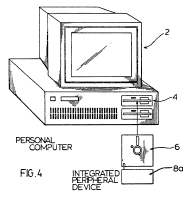 PC Connector Solutions v. SmartDisk (Fed. Cir. 2005).
PC Connector sued SmartDisk for infringement of its patent directed to the connection of peripherals to a computer via a coupler inserted into the disk drive. The claims include limitations such as "an input/output port normally connectable to a conventional computer input/output port."
SmartDisk argued that its flash memory cards could not infringe the patent because, like other terms in the claims, the terms "normally" and "conventional" must be interpreted as referring to technology that existed at the time of the invention. The district court agreed, finding that there could be no literal infringement because flash memories were not in normally connectable at the time the patent was filed in 1988.
On appeal, the Court of Appeals for the Federal Circuit affirmed, finding that a claim's "meaning must be interpreted as of its effective filing date." As such, the appellate panel held that SmartDisk did not infringe because "even a casual observer, [the flash memories] cannot be connected to a vintage 1988 computer I/O port that uses a multi-pin connector, there can be no literal infringement."
Prosecution Tip: Do not use the modifiers such as "normally," "traditional," or "conventional" in your claims. Such limitations do not allow you to overcome any prior art but do severely limit the scope of the claims.