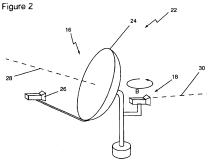 Northpoint Technology v. MDS (Fed. Cir. 2005).
Northpoint owns patents covering a method of communication through geosynchronous DBS satellites and sued MDS for infringement. A jury found infringement, but also concluded that the claims were invalid. The court then denied motions for JMOL & a new trial.
The appeal centered around claim construction of the term "directional reception range." In a split decision, the majority panel (Bryson, Schall, JJ) implicitly gave deference to the district court's construction. Rather than construing the claims de novo, the majority simply relied on the district court's broad interpretation of the term — finding that Northpoint's argument was a "misinterpretation of the trial court's construction." Under the broad construction, the patents Northpoint were clearly invalid as anticipated.
Dissenting in part, Judge Dyk argued that the majority's claim construction was "plainly incorrect." Using an internal analysis of claim language and the "object of the invention," Judge Dyke found that the disputed term should have been much more narrowly construed.
Links: